The Grand Opening Ceremony of 'FIFA WC 2022'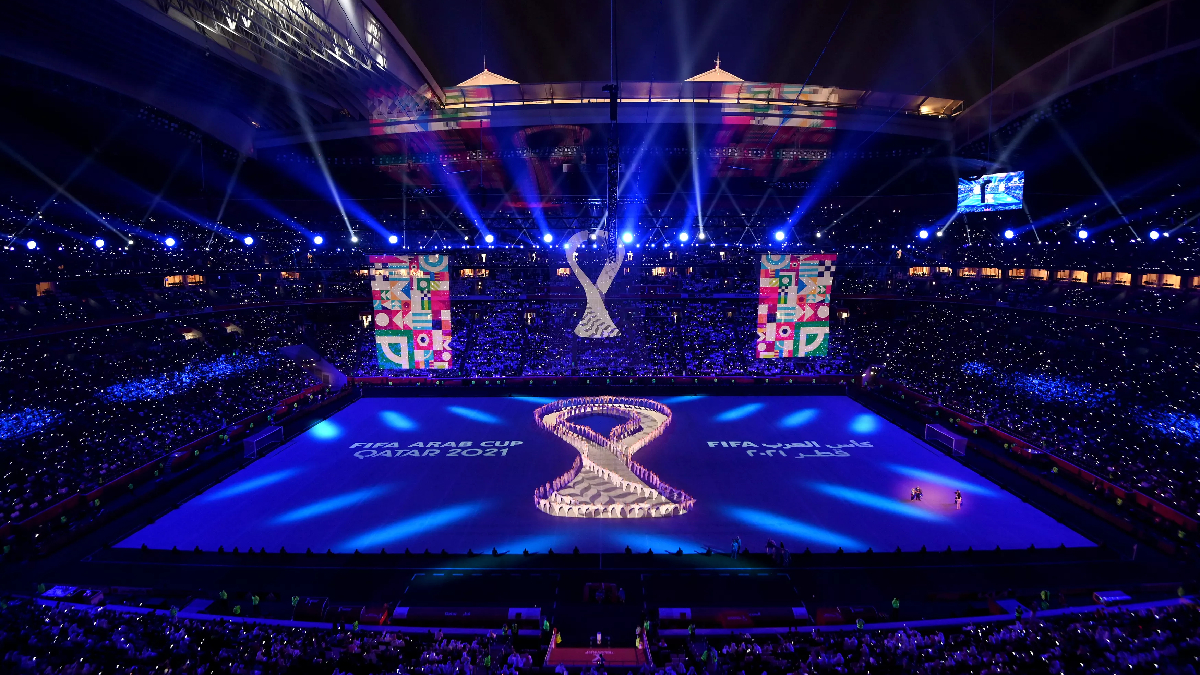 For the first time ever, the FIFA World Cup will be held in the Middle East. As Qatar is hoping it will bring with it a variety of economic advantages that it can share with its Gulf neighbors.
Here is all that we need to know about the FIFA World Cup 2022 opening ceremony in Qatar on November 20:
The FIFA World Cup 2022 will kick off today, November 20, with a ceremony that will precede the hosts Qatar and Ecuador's opening Group A match.
At 7:30 PM, the ceremony is scheduled to start. The opening ceremony was supposed to take place before Qatar's first game on Monday, which would have resulted in the uncommon circumstance of two games taking place before it. The first game in Qatar was then moved up by a day.
The 60,000-seat Al Bayt Stadium, located 40 kilometers north of Doha, will host the opening ceremony. The Al Bayt Stadium, which is the most remote but also one of the largest venues in central Doha, is named after and modeled after the nomadic tents used in the Gulf. It also has a retractable roof.
The complete list of performers for the opening ceremony has not yet been released by FIFA. One of the seven members of the South Korean boy band, Jungkook, will perform a song called "Dreamers" at the event, according to BTS. The Black Eyed Peas, Robbie Williams and Nora Fatehi have also been mentioned as potential performers at the opening ceremony, according to The Telegraph.
A rumor that British singer Dua Lipa was going to perform was denied by the singer. Shakira reportedly wouldn't perform either, according to some Spanish media reports. The Times reported that singer Rod Stewart had declined a gig in Qatar that would have paid over $1 million.
During the opening ceremony in Moscow for the FIFA World Cup 2018, British pop star Williams and Russian soprano Aida Garifullina performed. At the opening ceremony, both FIFA President Gianni Infantino and Russian President Vladimir Putin made speeches.
FIFA World Cup 202 Opening Ceremony: How to watch, live-streaming details:
The opening ceremony of the FIFA World Cup 2022 will be broadcast live on the Sports18 and Sports18 HD TV channels in India and Jio Cinema's app and website will both offer free live streaming of the event. Some reports suggest that the ceremony will also be live-streamed on Voot.
Shakib scores 7000 ODI runs as top 2nd Bangladeshi Cricketer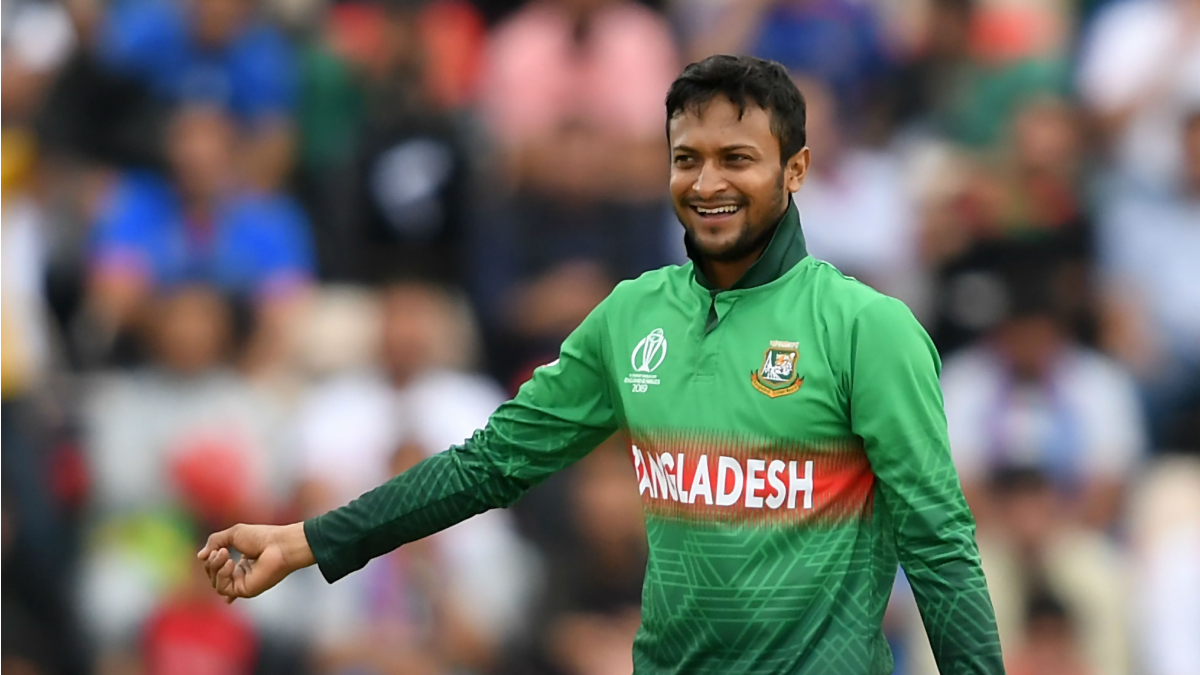 Bangladeshi Cricketer and star all-rounder Shakib Al Hasan have scored 7000 runs in ODIs.
He scored the milestone during the first ODI of the 3-match series against Ireland in Sylhet today, when he scored 24 runs.
Shakib took 228 matches and 216 innings to score 7000 runs in ODIs, happening to be the second Bangladeshi batsman after Tamim Iqbal to reach this feat.
During his ODI career, Shakib has scored 9 centuries and 52 half-centuries and has also taken 300 wickets in the same format.
Additionally, Shakib is the 3rd player to score over 7000 runs and take 300 or more wickets in ODIs, after Sanath Jayasuriya of Sri Lanka and Shahid Afridi of Pakistan.
Guinness WR achieved by Md Sameen Rahman in a 'Fastest Time To Tie A Windsor Knot'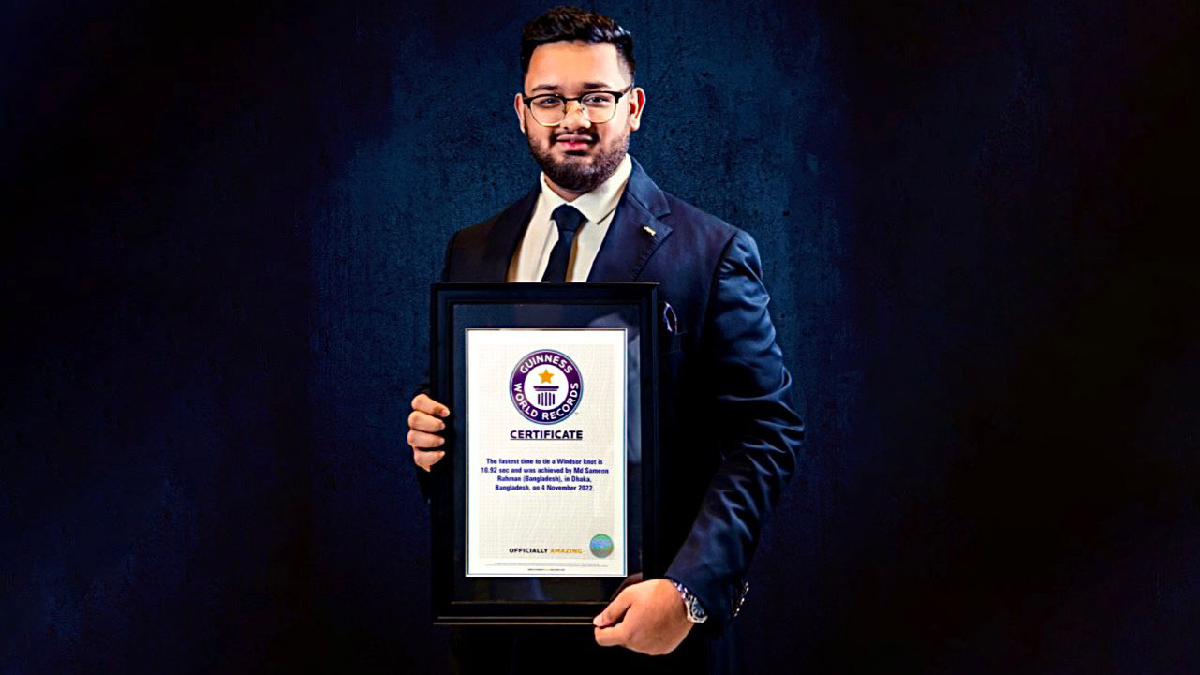 Guinness World Record holder Md Sameen Rahman from Bangladesh holds the title for the "Fastest Time To Tie A Windsor Knot." He pinned the record on 4th November 2022 from Dhaka, Bangladesh.
Presently, he is an undergraduate student at Independent University, Bangladesh aside he is also an entrepreneur and musician.
Md Sameen Rahman briefs, "Wearing a tie was always a habit since childhood, as it was a part of school uniform. As I have gained so much experience since childhood by wearing a tie, I imagined of challenging myself to break the Guinness World Record for the "Fastest Time To Tie A Windsor Knot."
Hence, I will try to break many more records by developing the skills I have gained so far. I have always kept myself motivated and inspired to carry out and search for new things with a dream of showcasing my nation Bangladesh. "
"With such solid beliefs and pure intentions accomplishing a Guinness World Record for my country is a fascinating experience. I urge to inspire this new generation to believe that the future is in the palm of our hands and that our potential is infinite," he concludes.
The drive of ambition can take you to great heights, and Md Sameen Rahman's dedication is the massive example for this generation.
Argentine FM arrives in Dhaka to reopen embassay & deepen ties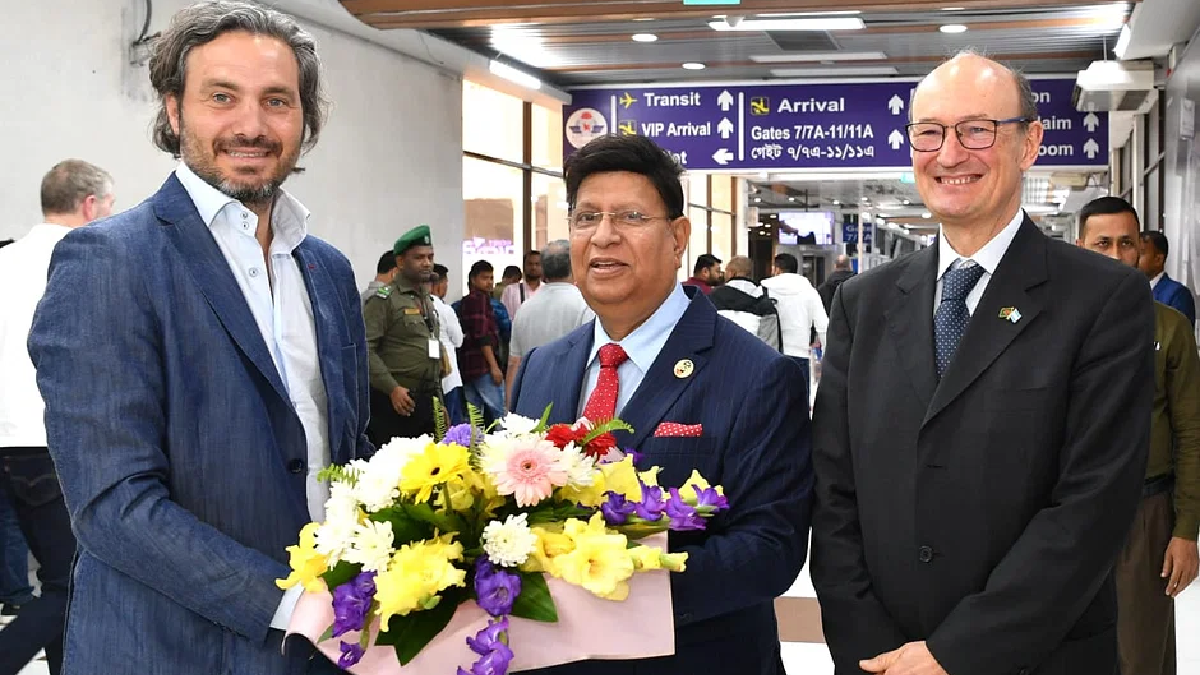 Argentina's Minister of Foreign Affairs, International Trade and Worship Santiago Andrés Cafiero arrived in Dhaka at the morning (27 February) to inaugurate the South American country's new embassy here and deepen trade and cultural relations.
Foreign Minister Dr. AK Abdul Momen received him at the VIP Lounge of Hazrat Shahjalal International Airport upon his arrival in Dhaka.
Argentina is reopening its embassy here after 45 years. State Minister for Foreign Affairs Md Shahriar Alam will join the Argentine foreign minister to inaugurate the Embassy of the Argentine Republic in Banani this afternoon.
The Argentine embassy in Dhaka was closed in 1978 by the military junta that ruled the country at the time. Diplomatic operations, such as visas in order to travel, have since been handled by the Argentine embassy in India.
Argentina says it is convenient to reopen the embassy in accordance with foreign policy guidelines based on "political, strategic and commercial" reasons. Apart from reopening the Argentine embassy in Dhaka, Cafiero is likely to meet Prime Minister Sheikh Hasina, and Commerce Minister Tipu Munshi.
"There is also the possibility of signing visa exemption agreements on diplomatic and official passports, MoUs on cooperation in agriculture and diplomatic training academies of the two countries," Ministry of Foreign Affairs Spokesperson Seheli Sabrin told reporters. The two countries are working on a memorandum of understanding on football related matters as well, she said.
Apart from the import of soybean oil and wheat from Argentina, the two sides are likely to discuss Bangladesh's inclusion in South America's powerful economic alliance Mercosur. Mercosur, or the Southern Common Market, is an economic and political bloc originally comprising Argentina, Brazil, Paraguay, and Uruguay.
The Argentine visiting team is likely to enjoy a friendly match between two teams comprising Bangladesh's junior footballers as well as meeting with football officials.