Guinness WR achieved by Md Sameen Rahman in a 'Fastest Time To Tie A Windsor Knot'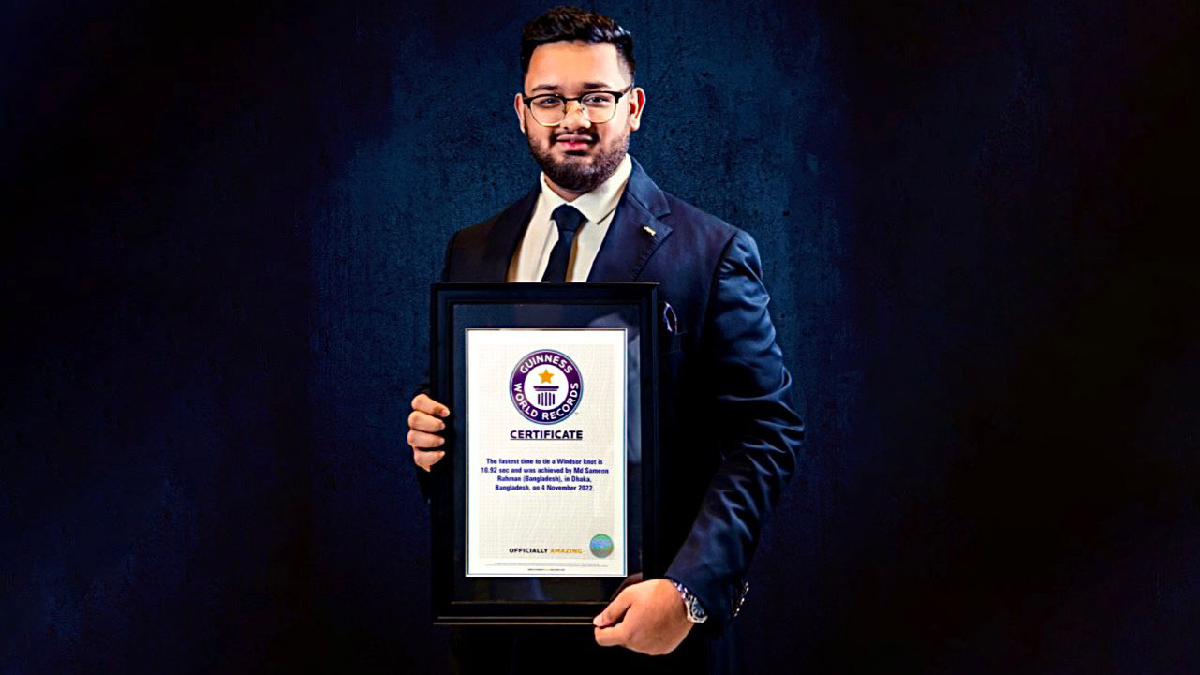 Guinness World Record holder Md Sameen Rahman from Bangladesh holds the title for the "Fastest Time To Tie A Windsor Knot." He pinned the record on 4th November 2022 from Dhaka, Bangladesh.
Presently, he is an undergraduate student at Independent University, Bangladesh aside he is also an entrepreneur and musician.
Md Sameen Rahman briefs, "Wearing a tie was always a habit since childhood, as it was a part of school uniform. As I have gained so much experience since childhood by wearing a tie, I imagined of challenging myself to break the Guinness World Record for the "Fastest Time To Tie A Windsor Knot."
Hence, I will try to break many more records by developing the skills I have gained so far. I have always kept myself motivated and inspired to carry out and search for new things with a dream of showcasing my nation Bangladesh. "
"With such solid beliefs and pure intentions accomplishing a Guinness World Record for my country is a fascinating experience. I urge to inspire this new generation to believe that the future is in the palm of our hands and that our potential is infinite," he concludes.
The drive of ambition can take you to great heights, and Md Sameen Rahman's dedication is the massive example for this generation.

HSC Results Announcements: 78.64% Pass Rate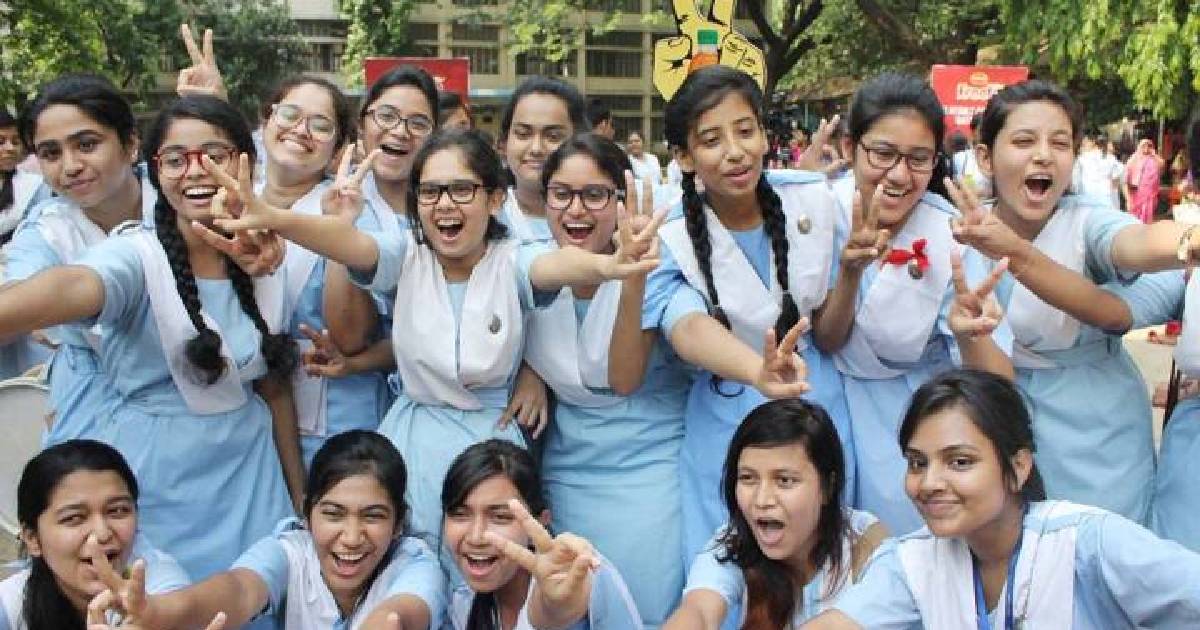 The results of this year's Higher Secondary Certificate (HSC) and equivalent examinations have been published. The average pass rate across the country's 11 education boards is 78.64%.
This year's HSC and equivalent examinations in 2022 recorded an average pass rate of 78.64%, a decrease from last year's 85.95%. The results were published on Sunday at 11 am on the websites of the respective education boards and self-regulated institutions.
The results indicate that a total of 10 lakh 67 thousand 852 examinees have passed the examinations collectively across all education boards. The pass rate for the HSC examinations in the 9 general education boards is 75.9%.
Earlier in the day, the Minister of Education, Dr. Dipu Moni, Deputy Minister of Education Mohibul Hasan Chowdhury Nowfel, and the board chairmen handed over the summarized results to Prime Minister Sheikh Hasina.
The HSC examinations began on August 17 in eight general education boards. Due to natural disasters, the examinations of Chittagong, Madrasa, and Bangladesh Technical Education Boards started on August 27.
This year, a total of 13 lakh 59 thousand 342 examinees filled out forms to participate in the examinations under the nine general, madrasa, and technical education boards. Of them, 13 lakh 59 thousand 342 candidates, including 6 lakh 88 thousand 887 male and 6 lakh 70 thousand 455 female students, appeared in the exams.
On a different note, this year's HSC and equivalent examinations were conducted with full syllabus and full time. However, students were given the option to take the ICT subject for 75 marks instead of 100 marks, as claimed by the examinees.
2 Bangladeshi Youths Partakes in China's Youth Camp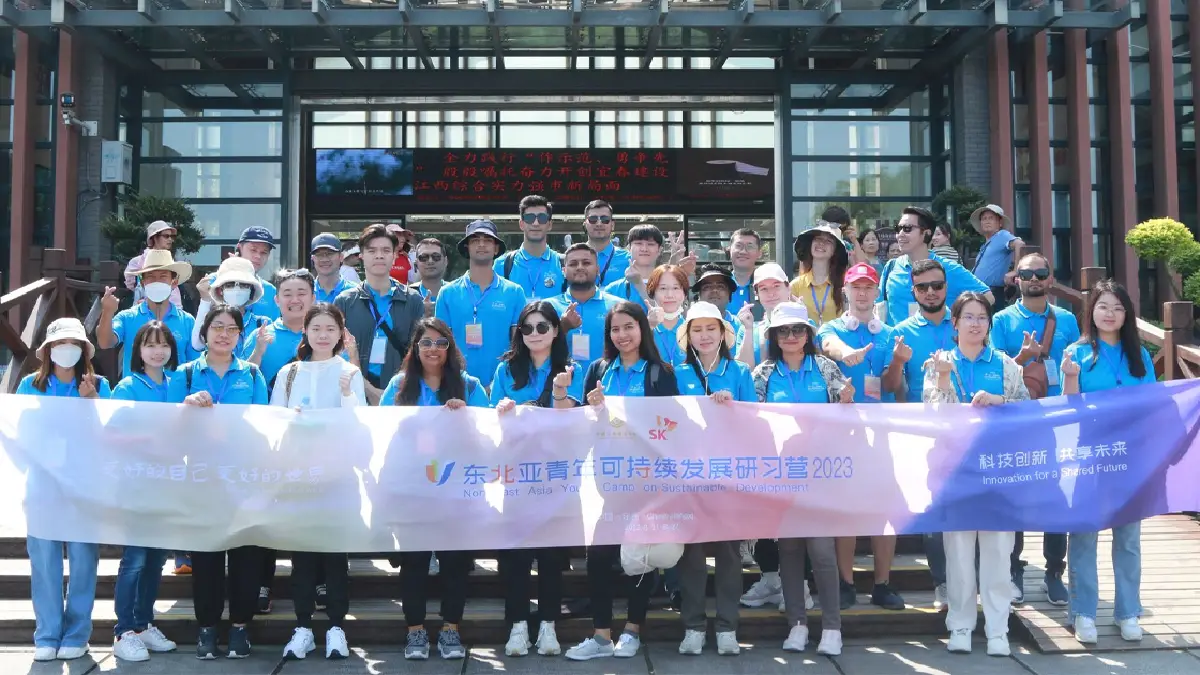 The North East Asian Youth Camp on Sustainable Development 2023, took place in China, Jiangxi Province, which included young representatives from various countries including Bangladesh. In this significant mega event, two individuals from Bangladesh had the privilege to participate.
From August 21st to 27th, a seven-day youth camp was held in the Jiangxi Province of China. The closing ceremony of the camp included the distribution of certificates among the participants. The event was jointly organized by the Jiangxi Provincial Foreign Affairs Office and the Jiangxi Provincial People's Association for Friendship with Foreign Countries. It was jointly sponsored by China Soong Ching Ling Foundation and South Korea's SK Group.
In the course of the program, participants embarked on learning journeys to Nanchang, Ji'an, and Yichun cities within Jiangxi Province. Their explorations encompassed historic sites from China's Red Revolution, exhibits on poverty alleviation and rural revitalization, centers for scientific and technological innovation, national geological preserves, cultural heritage sites, folk culture enclaves, and other locales of significance.
The opening ceremony was officiated by Fan Yong, Director of the Foreign Affairs Office of the Jiangxi Provincial People's Government. Notable attendees included Xia Wenyong, Vice Governor of Jiangxi Provincial People's Government; Wu Dianwu, Deputy Secretary-General of China Soong Ching Ling Foundation; and An Rongji, Deputy Consul General of the Korean Consulate General in Wuhan, who also delivered speeches.
Prominent figures such as Zhao Bo, Deputy Director of the International Cooperation and Exchange Department of the China Soong Ching Ling Foundation; Qiu Ling, Secretary of the Jiangxi Provincial Party Committee of the Communist Youth League; Huang Xiaoyan, Deputy Director of the Jiangxi Provincial Foreign Affairs Office and Vice President of the Provincial Association for Friendship with Foreign Countries; and Hu Zhenyan, Deputy Secretary of the Jiangxi Provincial Party Committee of the Communist Youth League and Chairman of the Provincial Youth Federation, graced the opening ceremony.
Representatives from 30 young individuals of 12 countries, including Bangladesh, Russia, Japan, South Korea, Malaysia, Cambodia, Nepal, Sri Lanka, and Pakistan, took part in this camp.
Textbooks for New Academic Year to Reach Upazila Level by Nov, Confirms Secretary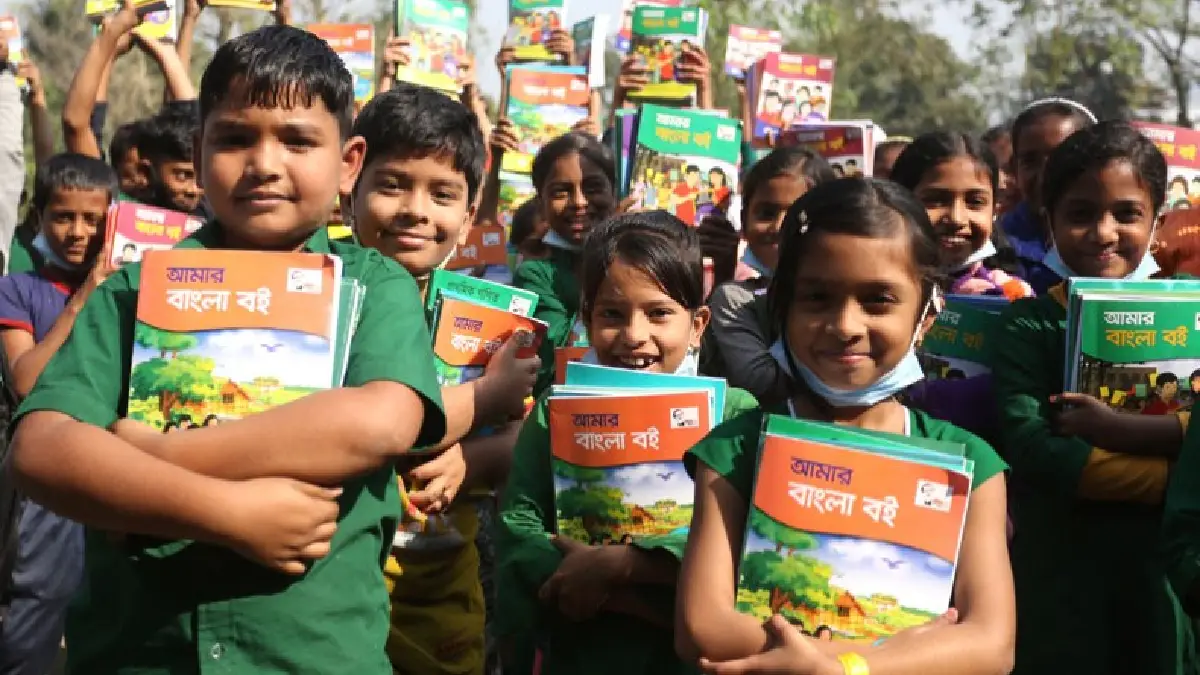 Farid Ahmed, the Secretary of Primary and Mass Education, revealed that they are committed to ensuring that textbooks for the upcoming academic year will reach upazila level by November. This dedication stems from their goal of providing all children with their required books on the very first day of the new academic year. Ahmed made this announcement while serving as the chief guest during a virtual workshop centered on the 2nd Annual Action Plan of USAID's "Shobai Miley Shikhi" (Let's learn together) project, held in the morning.
To align with the revised curriculum, textbooks for classes 2 and 3 have been meticulously prepared for the approaching academic year. Furthermore, a plan is in place to introduce new textbooks based on a revised curriculum for 4th and 5th-grade students in the academic year of 2025.
Speaking about the "Shobai Miley Shikhi" initiative, the Mass Education Secretary emphasized the importance of collective learning, emphasizing that the approach ensures inclusivity and equal opportunities for all, while propelling progress through collaborative endeavors. He advocated for a strategic action plan to nurture children, equipping them to tackle the challenges posed by the Fourth Industrial Revolution.
Presided over by Dilip Kumar Banik, the Additional Director General of the Department of Primary Education, the workshop saw the participation of various key figures. Among them, Mosharraf Hossain, the Additional Secretary of the Ministry of Primary and Mass Education, Andrew Holland, the Supervisory Contracting Officer of USAID's Bangladesh mission, Sonjai Reynolds-Cooper, USAID's Director of Education, and Manish Chakma, the Director of the Department of Primary Education, also addressed the event. This collective effort signifies a strategic move towards enhancing the educational landscape, aligning it with evolving global paradigms.