Fortify Rights Urges Malaysia to Investigate and Hold Officials Accountable for Involvement in Rohingya Trafficking Syndicate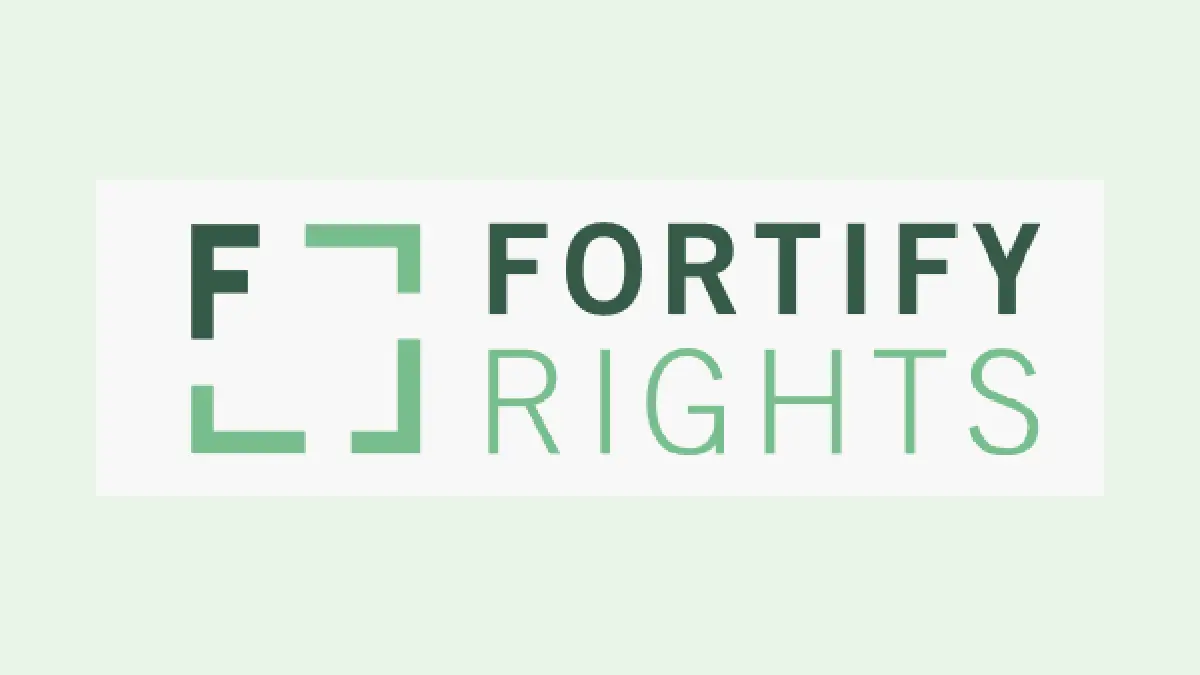 Human rights organization Fortify Rights has urged Malaysian authorities to launch a fresh investigation into the mass graves of Rohingyas discovered in Wang Kelian. The organization is also calling for the prosecution of officials found to be negligent in detecting, investigating, and prosecuting a human trafficking syndicate. Last week, four Thai nationals were charged by a court in Malaysia's Perlis state for offenses under Malaysia's Anti-Trafficking in Persons and Anti-Smuggling of Migrants Act. These charges are related to the trafficking of Rohingyas from Myanmar to Malaysia in 2015.
Fortify Rights and Malaysia's national human rights commission, SUHAKAM, found in 2019 that there was a surge in Rohingya trafficking between 2012 and 2015, which constituted crimes against humanity. The subsequent Royal Commission of Inquiry (RCI) in Malaysia, in 2020, concluded that Malaysian officials could have prevented the trafficking and the discovery of the mass graves in Wang Kelian.
While welcoming the recent indictments, Fortify Rights stressed the importance of prosecuting Malaysian officials involved in these crimes. According to Patrick Phongsathorn, Senior Advocacy Specialist at Fortify Rights, no Malaysian official has faced formal charges in relation to the mass trafficking of Rohingya refugees, despite evidence of at least criminal negligence.
The Home Affairs Ministry of Malaysia acknowledged that the four extradited men were among ten individuals named in an extradition request made by Malaysian authorities to their Thai counterparts in January 2017. The four men are accused of being part of a transnational criminal syndicate responsible for trafficking around 170,000 people from Myanmar and Bangladesh to Malaysia via southern Thailand between 2012 and 2015.
Based on a comprehensive investigation and over 270 survivor accounts and eyewitness testimonies, a 121-page report by Fortify Rights and SUHAKAM in 2019 detailed grave human rights violations against Rohingya victims trafficked to Malaysia. The report documented widespread and systematic abuses, including imprisonment, torture, extortion, deprivation of life, rape, and killings on land and at sea. It also revealed that Malaysian authorities impeded justice by destroying evidence and delaying the exhumation of victims' bodies.
The RCI's final report, quietly released by Malaysia's Home Affairs Ministry in July 2022, concluded that Malaysian officials could have prevented the torture and death of Rohingyas and other trafficking victims. The report highlighted instances of official negligence hindering the detection and proper investigation of the human trafficking syndicate. Former Inspector-General of Police Khalid bin Abu Bakar was cited for deliberately delaying the exhumation of human remains in Wang Kelian for over five months, significantly impeding accountability efforts.
Fortify Rights has also gathered survivor testimonies implicating government officials in the trafficking syndicate. In 2017, Thailand convicted 62 individuals, including a senior army general and eight Thai government officials, for their involvement in trafficking Rohingyas. However, since 2015, Malaysian courts have only convicted four non-Malaysian individuals in connection with the mass graves in Wang Kelian.
Fortify Rights has called on Malaysia's newly established Independent Police Conduct Commission (IPCC) to investigate cases of official criminal negligence in Wang Kelian. The IPCC, whose responsibilities include promoting integrity within the police force and addressing misconduct, will begin operating on July 1. Concerns have been raised by Malaysian civil society regarding the impartiality and accountability of the IPCC in investigating police wrongdoing.
In 2007, Malaysia enacted the Anti-Trafficking in Persons and Smuggling of Migrants Act, which criminalizes human trafficking and outlines the investigative duties of enforcement officers. The Malaysian Penal Code also stipulates criminal penalties for official negligence under sections 201, 217, and 218.

Bangladesh Aims to Enhance Bilateral Ties with South Korea in Trade and Investment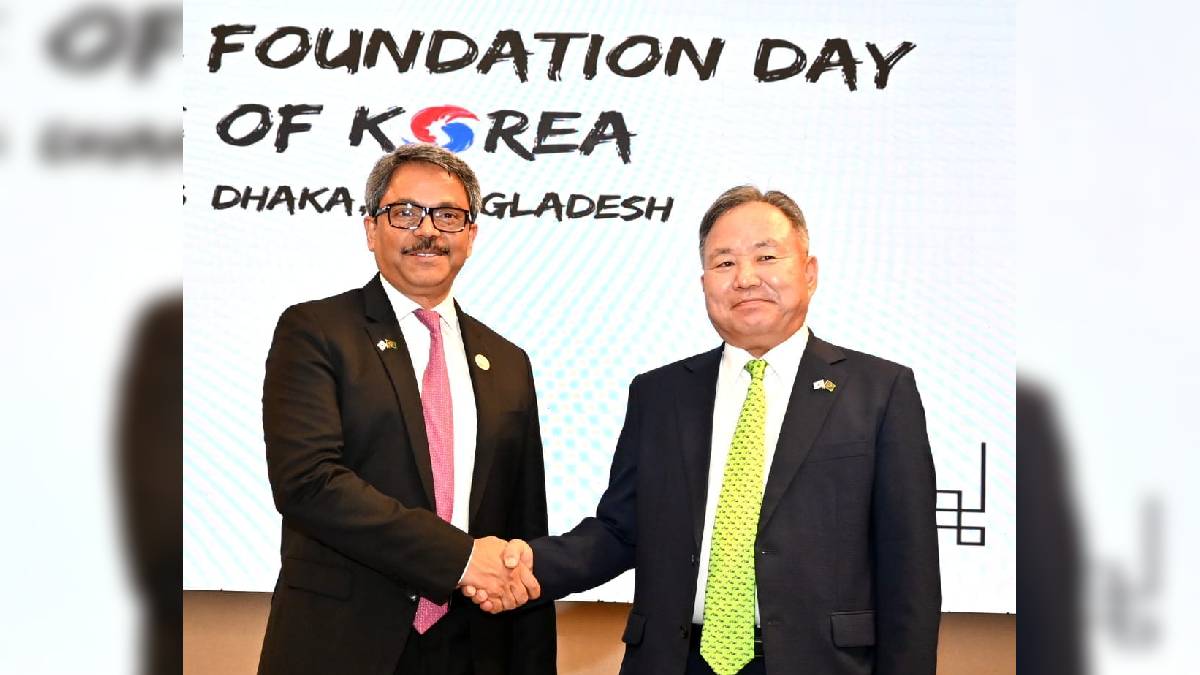 Bangladesh is eager to strengthen its bilateral relations with South Korea, particularly in the realms of trade and investment, in pursuit of realizing the dream of achieving a 'Golden Bengal,' as envisioned by the Father of the Nation, Bangabandhu Sheikh Mujibur Rahman.
State Minister for Foreign Affairs, Md Shahriar Alam, expressed this commitment as the chief guest at a reception commemorating South Korea's National Foundation Day. The reception, hosted by South Korean Ambassador to Bangladesh Park Young-Sik, took place at a city hotel on Sunday evening.
During his speech, Minister Alam conveyed Dhaka's contentment with the consistent growth in bilateral trade and investment between Bangladesh and South Korea. He highlighted the 50-year history of robust bilateral relations and expressed optimism about elevating this friendship to a deeper and more comprehensive level of collaboration.
Furthermore, Minister Alam referenced the recent meeting between Prime Minister Sheikh Hasina and President Yoon Suk Yeol on the sidelines of the G20 Leaders Summit in India, underlining the significance of such high-level engagements.
He reiterated Prime Minister Sheikh Hasina's vision of establishing a knowledge and technology-based prosperous and intelligent Bangladesh by the year 2041.
Minister Alam also expressed gratitude for South Korea's prompt recognition of Bangladesh as an independent state shortly after its independence on May 12, 1972.
Vietnam's National Assembly President Attends Forum in Dhaka for Economic Collaboration with Bangladesh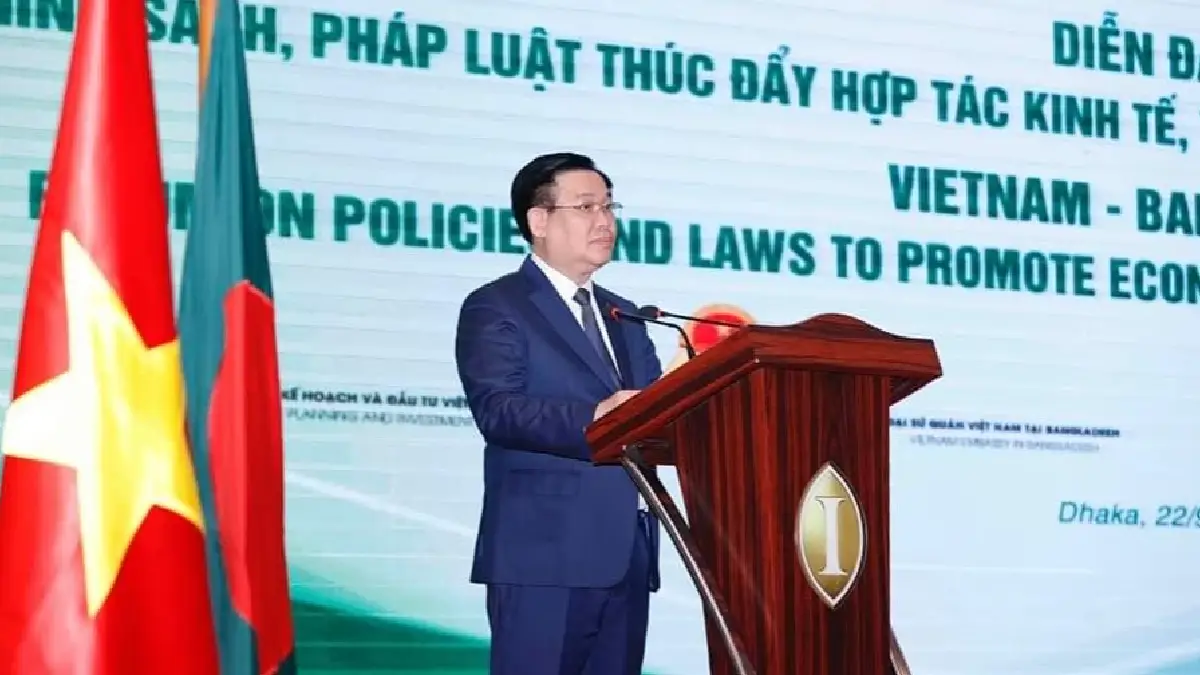 Vuong Dinh Hue, the President of the Vietnam National Assembly, recently participated in an event held in Dhaka known as the 'Forum on Policies and Laws to Foster Economic, Trade, and Investment Collaboration between Vietnam and Bangladesh.' This significant gathering was jointly organized by the Vietnamese Ministry of Industry and Trade, the Ministry of Planning and Investment, the Vietnamese Embassy in Bangladesh, and in cooperation with key entities including the Federation of Bangladesh Chambers of Commerce and Industry (FBCCI) and the Vietnamese Business Association in Bangladesh.
The forum drew the presence of a distinguished high-level delegation from the Vietnamese National Assembly, alongside prominent figures from the Federation of Bangladesh Chambers of Commerce and Industry (FBCCI), the Dhaka Chamber of Commerce and Industry (DCCI), and a substantial representation from businesses on both sides. Additionally, various ministries from both Vietnam and Bangladesh were represented.
During the forum, three notable business-to-business Memoranda of Understanding (MoUs) were inked. These agreements included collaboration between BMH Vietnam Company and Doreen Group Bangladesh, focusing on investment cooperation, technology transfer, and the advancement of pre-engineered steel production. Another agreement was reached between Bangladesh Vietnam Development Assistance Company and the Bangladesh Pharmaceutical Association, with a specific focus on pharmaceutical exchange. Lastly, Huong Giang Aviation Services and the Bangladesh Tourism Association came together to establish a tourism alliance, marking a significant step in enhancing tourism ties between the two nations.
As part of his official three-day tour, Vuong Dinh Hue visited the state-of-the-art facilities of Beximco Pharma in Tongi, where he received an informative presentation and toured the manufacturing facility.
Bangladesh's Commitment to SDGs Unshaken Despite Global Challenges, Says PM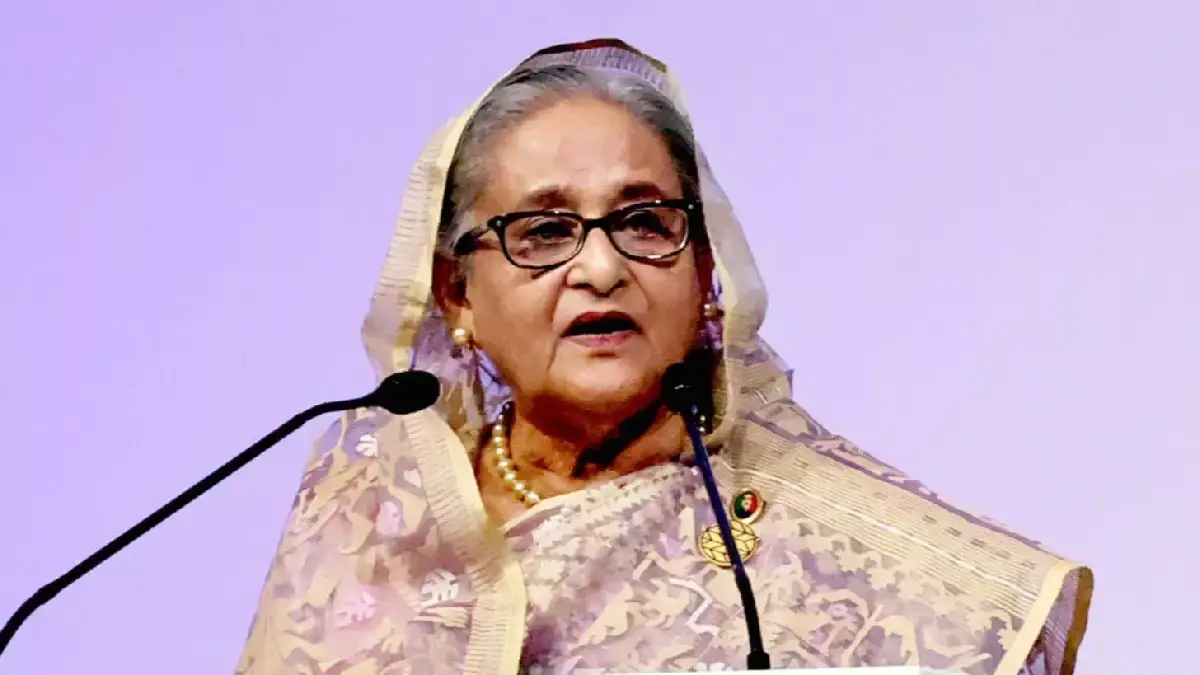 Prime Minister Sheikh Hasina has reaffirmed her government's unwavering commitment to implementing the Sustainable Development Goals (SDGs), even in the face of challenges posed by the Covid-19 pandemic, the Ukraine war, and the climate crisis. She made this declaration during a meeting with Helen Clark, Chair of the Partnership for Maternal, Newborn and Child Health (PMNCH), at the United Nations Headquarters.
As part of her commitment to healthcare services accessibility for all citizens, PM Sheikh Hasina mentioned the implementation of the National Health Sector Strategic Plan (2011-2030) and a 27% increase in healthcare sector allocations for the current fiscal year 2023-24.
Helen Clark commended Bangladesh's exceptional progress in healthcare under Prime Minister Sheikh Hasina's visionary leadership, citing the nation's remarkable achievements in reducing maternal and child mortality rates and ensuring universal healthcare services.