Nationwide Pension Scheme to Commence on Thursday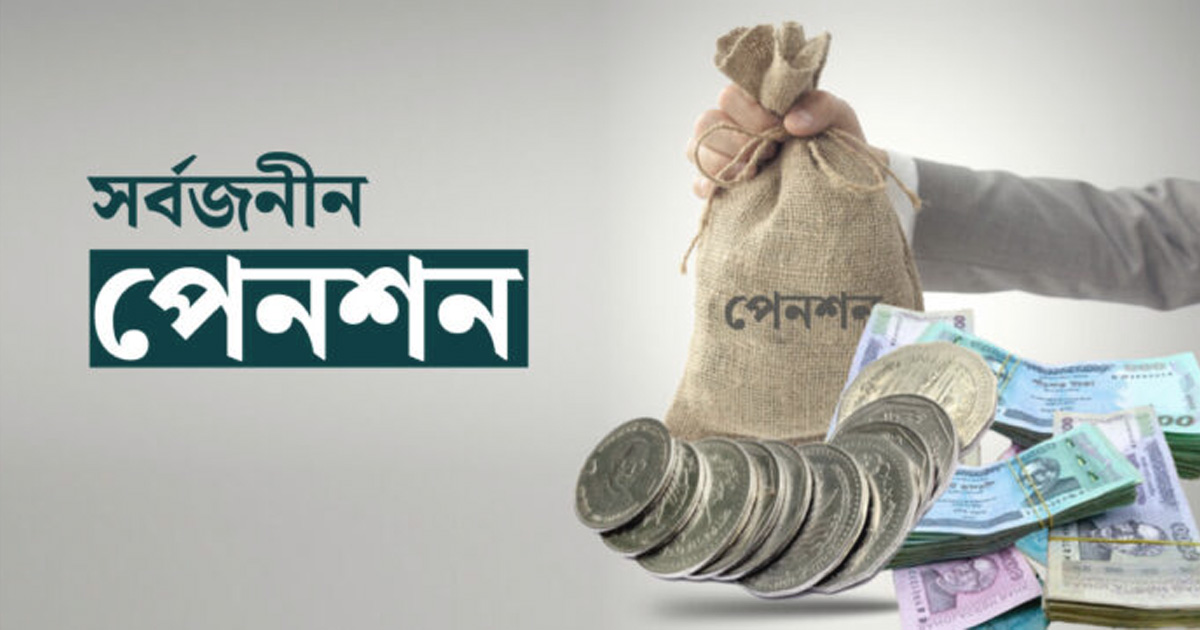 The Government has recently announced the issuance of the 'Universal Pension Scheme Regulations 2023'. On the upcoming Thursday (August 17), Prime Minister Sheikh Hasina will inaugurate the Pension Scheme. The preparations for the launch of this scheme have been undertaken by the Ministry of Finance, covering the districts of Ganabhaban, Gopalganj, Bagerhat, Rangpur, and the Saudi Arabian Embassy in Bangladesh.
As revealed, the Ministry of Finance's Department of Economic Affairs released the 'Universal Pension Scheme Regulations 2023' on Monday (August 13). Under this initiative, individuals joining the scheme at the age of 18 will be entitled to maximum benefits. Currently, the government has introduced four types of pension schemes on an emergency basis. These are: Progoti, Probash, Shurokkha and Samata. Among these categories, the Probash category holds the highest potential for Bangladeshi expatriates to accumulate the most funds. Expatriate Bangladeshis will have the opportunity to deposit up to a maximum of 10,000 Bangladeshi Taka per month to avail pension benefits. The regulations define the eligibility criteria, contribution amounts, and the amount of pension to be received monthly upon the completion of the stipulated period.
Sources indicate that the Pension Scheme includes various categories tailored to different groups. The Emigrant Probash Scheme is designed for expatriates, the Shurokkha Scheme for private sector employees, the Security Scheme for those engaged in informal sectors or self-employment, and the Samata  Scheme for low-income individuals. On Thursday, the website named 'UPension' will also be launched, allowing individuals to enroll in the pension scheme from that day onwards through the online platform.
As per the regulations, any Bangladeshi citizen holding a national identity card aged between 18 and 50 can become a part of the Pension Scheme. Additionally, individuals over 50 years of age can also join any type of pension scheme based on specific considerations. However, the exact details of the pension scheme for individuals above 50 are yet to be finalized.
For expatriate Bangladeshis who lack a national identity card (NID), they can register based on their passport information. However, it is essential for them to submit their NID to the government within a reasonable timeframe. Those already benefiting from the Social Safety Net program will also be eligible for the pension scheme. In such cases, they will need to forego the benefits they currently receive under the Social Safety Net program.
Bangladeshi citizens residing within the country or abroad will have the option to apply for the National Pension Scheme through an online form provided by the relevant authority. In contrast, they will need to provide a Unique Identification Number (UID) as part of the application process. The application form will require the applicant's mobile number and, for non-residents, an automated email will facilitate the submission of their UID number, current exchange rate, and date of monthly contribution.
Determining Pension Amount Based on Contribution:
Under the Probash Scheme:
Expatriate Bangladeshis opting to contribute a monthly installment of 5,000 Taka for 10 years will receive a pension of 7,651  Taka per month. For a similar contribution over 42 years, the monthly pension amount will reach 1 lakh 72 thousand 327 Taka.
By depositing 10,000 Taka monthly for 10 years, individuals can obtain a monthly pension of 15,302 Taka. Similarly, contributing the same amount for 42 years will yield a monthly pension of 3 lakh 44 thousand 655 Taka.
Under the Pragati Scheme:
Private sector employees will be eligible for the Pragati Scheme. By depositing a minimum monthly installment of 2,000 Taka for 10 years, they will qualify for a monthly pension of 3,060 Taka. A 10-year contribution of 5,000 Taka will yield a pension of 7,651 Taka.
For those contributing a monthly installment of 2,000 Taka for 42 years, the monthly pension will amount to 68,931 Taka. Similarly, if the monthly contribution of 5,000 Taka is made until retirement (42 years), the pension will be 1 lakh 72 thousand 327 Taka per month.
Under the Shurokkha Scheme:
Individuals employed in the informal sector will fall under the Shurokkha Scheme. By contributing 1,000 Taka per month for 10 years, they will be eligible for a monthly pension of 1,530 Taka. Similarly, a 42-year contribution of 1,000 Taka per month will yield a monthly pension of 34,465 Taka.
Under this scheme, a maximum monthly contribution of 5,000 Taka is allowed. By contributing this amount for 10 years, an individual will receive a monthly pension of 7,651 Taka. Likewise, a 42-year contribution of 5,000 Taka per month will result in a monthly pension of 1 lakh 72 thousand 327 Taka.
Samata  Scheme:
Under the Samata Scheme, marginalized communities living below the poverty line will be included. Their monthly contribution will be 1,000 Taka. However, the government will contribute 500 Taka on their behalf. In other words, those falling under this scheme will need to deposit 500 Taka. By contributing for 10 years, they will receive a monthly pension of 1,530 Taka. Similarly, a contribution over 42 years will result in a monthly pension of 34,465 Taka.
According to the Pension Scheme regulations, pension contributions must be made to the designated bank account of the National Pension Authority. Contributions can be made through online banking, credit cards, debit cards, mobile financial service providers (MFS), and any branch of the specified bank.
If the contribution is not made within the stipulated time, a grace period of one month without any penalties will be allowed. If the delay extends beyond one month, a penalty will be imposed at a rate of 1% per day. An option to make advance contributions for upcoming months is also available. Contributions can be made on a monthly, quarterly, or annual basis.
Contributors can utilize 50% of the accumulated amount, along with interest, to cover medical expenses, home construction, renovations, and their child's wedding expenses. This amount can be repaid in 24 installments.
This scheme is designed to address the needs of the economically disadvantaged sections of society, ensuring their financial security and offering a pathway to a stable future. The diverse options for contribution and utilization make this pension initiative a comprehensive endeavor that caters to the specific requirements of different individuals and families.

President Shahabuddin Encourages Youth to Embrace Modern Knowledge and Patriotism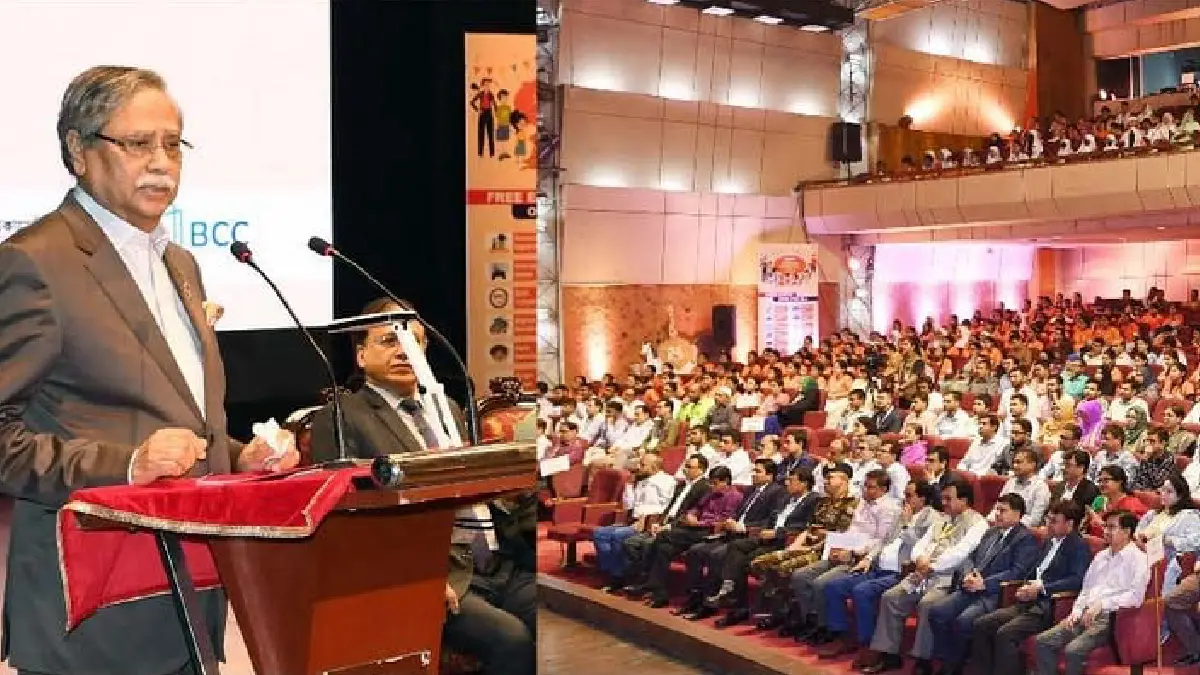 President Mohammed Shahabuddin delivered a call to action today, urging individuals from all political backgrounds and viewpoints to collaborate in furthering the country's ongoing development. He made these remarks during the opening of the "Smart Children Carnival 2023" at Bangladesh Shilpakala Academy in the capital.
During the festival's opening ceremony, President Shahabuddin emphasized the importance of not taking actions that might hinder the country's progress. He acknowledged the ever-advancing world and encouraged everyone to move forward with the utmost tolerance, mutual trust, and faith.
The President underscored the need to nurture children as "smart citizens," equipping them with efficiency, creativity, progressiveness, a non-communal mindset, and patriotism to contribute to the realization of a 'Smart Bangladesh' in the future.
Key figures including State Minister for Information and Communication Technology (ICT) Division Zunaid Ahmed Palak, State Minister for Primary and Mass Education Md Zakir Hossain, and various other officials and children representatives addressed the event.
President Shahabuddin outlined the national goal of establishing a 'Smart Bangladesh' by 2041, characterized by top-notch, world-class work and management based on smart technology. He encouraged the younger generation to embrace modern knowledge and apply it in their lives, emphasizing the importance of learning about Bangladesh's Liberation War and its founding leader, Bangabandhu Sheikh Mujibur Rahman.
Additionally, the President extended warm greetings and congratulations to Prime Minister Sheikh Hasina on her upcoming 77th birthday. He expressed his deep affection for all the children in the country and thanked the carnival's organizers, highlighting the event's role in fostering learning while enabling children to engage in sports, explore new technology, and make new friends.
President Shahabuddin urged local public representatives to provide necessary playgrounds for children who often spend excessive time using electronic devices, emphasizing the value of enriching knowledge beyond traditional textbooks. He emphasized that the country should be considered a family, and individuals should take the initiative to learn about their homeland.
The President also praised various development initiatives and the government's commitment to realizing Vision 2021, aiming for a developed, prosperous, and smart Bangladesh by 2041 in line with the dream of Bangabandhu Sheikh Mujibur Rahman.
Furthermore, President Shahabuddin participated in an audio-visual exhibition that offered insights into the envisioned 'Smart Bangladesh' in 2041.
Bangladesh Celebrates Prime Minister Sheikh Hasina's 77th Birthday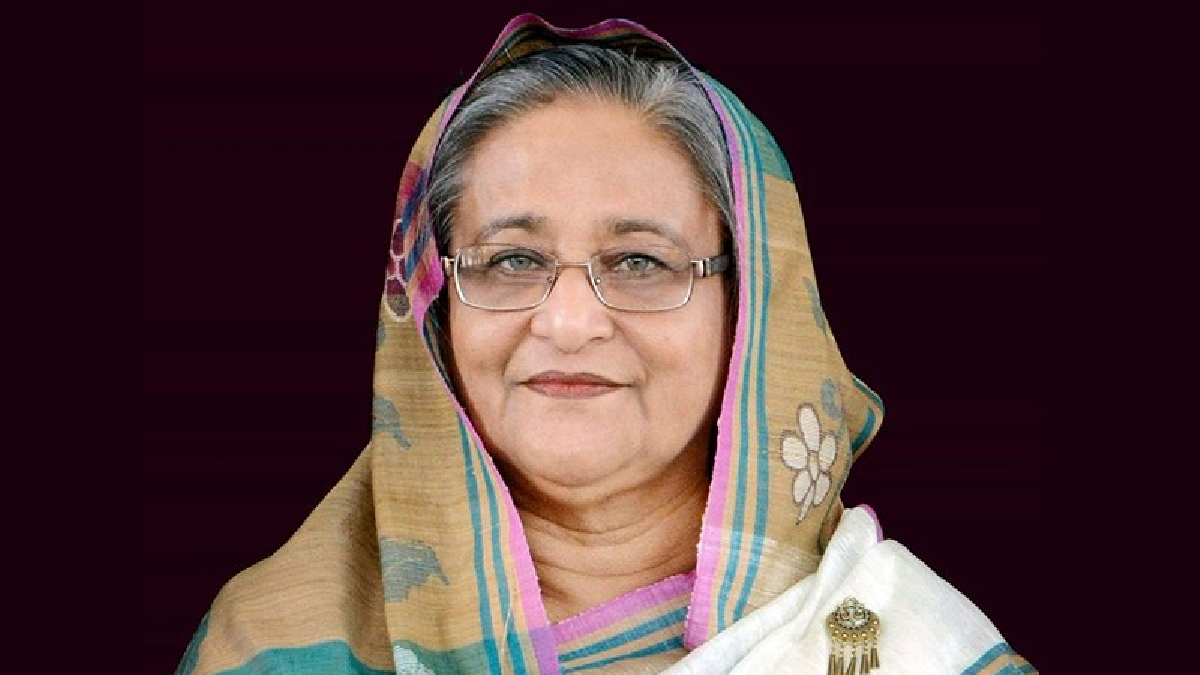 The nation will celebrate the 77th birthday of Prime Minister and Awami League (AL) President Sheikh Hasina today.
Born on September 28, 1947, in Tungipara, Gopalganj, Sheikh Hasina is the eldest of the five children of the Father of the Nation, Bangabandhu Sheikh Mujibur Rahman, and Bangamata Sheikh Fazilatun Nesa Mujib.
Currently, Prime Minister Sheikh Hasina is abroad attending the 78th United Nations General Assembly (UNGA) session. Following in the footsteps of Bangabandhu, she addressed the UNGA in Bengali, as she has done in previous years.
Awami League (AL), its affiliated organizations, and socio-cultural groups will commemorate the day with various events highlighting Sheikh Hasina's life and accomplishments. These activities will include discussions, milad (prayer gatherings), and special prayers held both in the capital and nationwide.
Sheikh Hasina spent a significant part of her early life in her birthplace, where she received her early education. Her family moved to Dhaka in 1954 when Bangabandhu was elected as a legislator.
She pursued her education at institutions such as Sher-e-Bangla Girls' School and College and Azimpur Girls' High School, where she completed her secondary education in 1965. She then enrolled at Badrunnessa Government Girls' College.
During her university days, she served as the vice-president of the students' union at Eden Girls' College (which included Badrunnessa and Eden Girls' College at the time). Subsequently, she pursued her master's degree in Bangla at Dhaka University.
As a student leader, Sheikh Hasina actively participated in the historic six-point movement in 1966 and the student movement of 1969, which led to the abdication of General Ayub Khan.
In 1968, she married nuclear scientist Dr. MA Wazed Miah with the blessing of her incarcerated father, Bangabandhu. During the Liberation War, she and her family were confined to a house in Dhaka. On July 27, 1971, she gave birth to her first child, Sajeeb Wazed Joy. Her second child, Saima Wazed, was born on December 9, 1972.
Following the assassination of her parents in 1975, Sheikh Hasina and her family sought political asylum in India, where she resided until 1981, when she was elected as the president of the Awami League in her absence. She returned to Bangladesh on May 17, 1981, to a grand reception.
In the 1986 parliamentary election, Sheikh Hasina was elected as a Member of Parliament from three different constituencies. After the fall of autocracy in 1990, she was chosen as the Leader of the Opposition through the general elections of 1991.
In the 1996 general elections, 21 years after her father's assassination, she led the Awami League to victory, assuming power as Prime Minister for the first time.
On August 21, 2004, Sheikh Hasina narrowly escaped an assassination attempt as grenades were hurled at an AL rally on Bangabandhu Avenue in the capital. Although she survived, the attack resulted in the loss of at least 24 lives and injured over 500 others, most of whom were Awami League leaders and supporters.
In 2008, she led the Grand Alliance to a resounding victory, securing 90 percent of parliamentary seats in the general elections and becoming Prime Minister for the second consecutive term. On January 5, 2014, she was reelected as Prime Minister.
Under her leadership, Bangladesh has achieved remarkable progress in various fields, including economic growth, self-sufficiency in food production, and advancements in women's empowerment, agriculture, education, healthcare, infrastructure, communication, energy, trade, ICT, and SME sectors.
Her humanitarian efforts, particularly in providing support to over 1.1 million Rohingya refugees from Myanmar, have garnered international acclaim. In 2017, the UK-based 'Channel 4' referred to Prime Minister Sheikh Hasina as the 'Mother of Humanity' for her role in sheltering Rohingyas fleeing persecution.
Sheikh Hasina has received numerous awards and honors, including the Tagore Peace Award-2018, the Vaccine Hero award, and the Champion of Skill Development for Youth award. She has also been recognized with honorary degrees and accolades for her leadership and intellectual contributions.
Sheikh Hasina has authored more than 25 books, including 'Mujib Amar Pita,' 'Living in Tears,' 'Sada Kalo,' and 'Amara Janaganer Kotha Bolte Esechhi.'
BICM Trains Women Investors Regarding Capital Market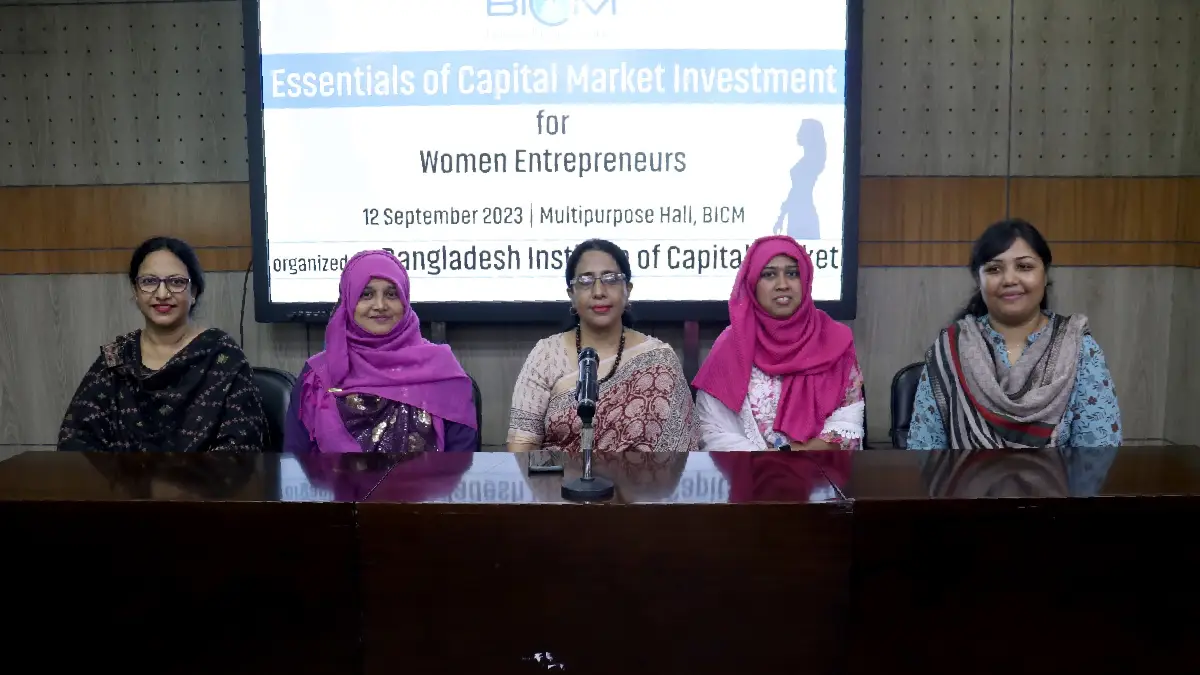 Bangladesh Institute of Capital Market (BICM) has organized an investment education program titled "Essentials of Capital Market Investment for Women Entrepreneurs." This initiative is specifically aimed at female investors and entrepreneurs.
The program took place on Tuesday, September 12th, at BICM's multipurpose hall. Over a hundred female members from "Women and E-commerce (WE)," an organization comprising numerous women entrepreneurs, participated in this training program.
The chief guest at the event was Dr. Mahmuda Akter, the Executive President of the Bangladesh Institute of Capital Market (BICM). Among the notable attendees were Nasima Akter Nisha, the President and Founder of Women and E-commerce (WE), as well as Irene Parveen, the Executive Director of WE. The executive committee director, Salma Parveen, and Rakiba Parveen, members of BICM's Women Entrepreneurs and Development Committee, were also present. Additionally, the event was graced by Kashfiya Sharmin, Assistant Professor and Assistant Coordinator of the committee, Dr. Tamanna Islam, Assistant Professor and committee member, S. M. Kalbin Chalima, Lecturer, Faima Akter, Lecturer, and Gaurab Roy, Lecturer, all from BICM.
Addressing the gathering, Professor Dr. Mahmuda Akter highlighted that the Bangladesh Institute of Capital Market (BICM) has been consistently providing training on various relevant subjects in the financial/stock market. As part of this commitment, the institute has organized this training program specifically for women investors. Dr. Mahmuda Akter emphasized the importance of women being well-informed and cautious with their savings when investing in the capital market. She underscored BICM's dedication to equipping women with the knowledge and skills needed to make informed and secure investments in the capital market.
Irene Parveen, the Executive Director of Women and E-commerce (WE), stated that WE members are actively seeking education not only in e-commerce but also in investment through the Bangladesh Institute of Capital Market (BICM). The aim is to equip WE members with the skills and knowledge required to engage in investments in the capital market alongside their e-commerce ventures.
It's noteworthy that BICM has been conducting regular "Free Investors' Education Programs" with the objective of enhancing investment awareness among ordinary investors in the Capital Market. In addition, the institute organizes certificate training programs on various contemporary topics for capital market professionals.