US, Canada, Mexico Leaders show unity despite friction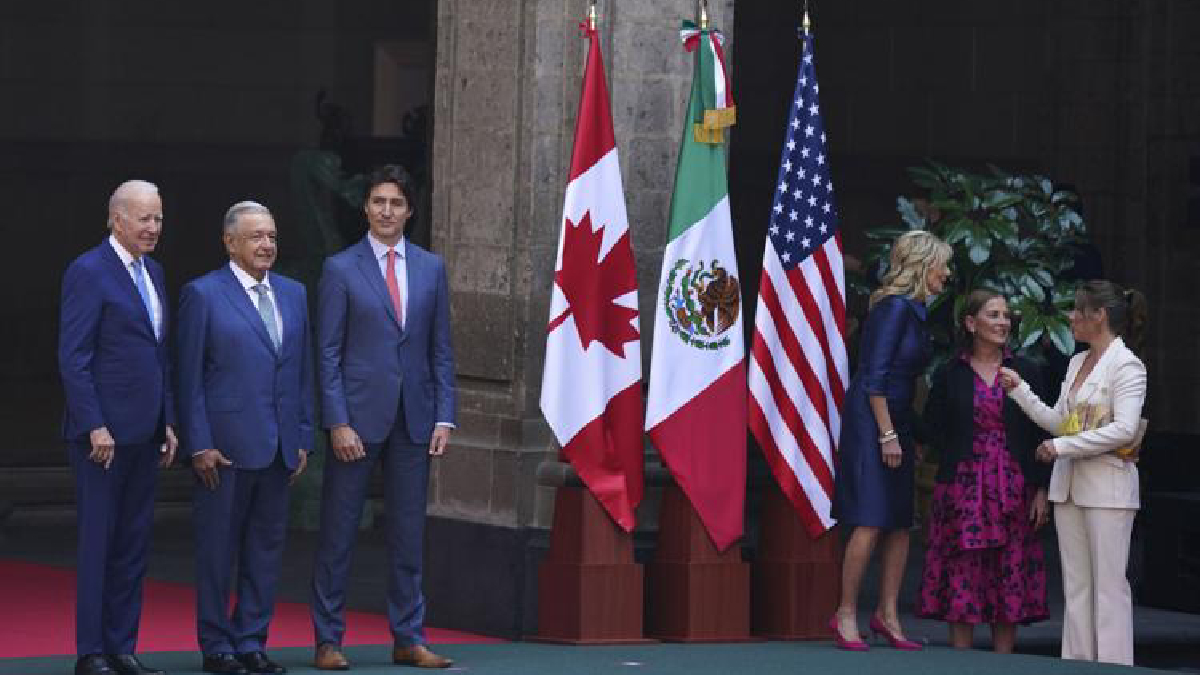 US President Joe Biden, Mexican President Andrés Manuel López Obrador and Canadian Prime Minister Justin Trudeau sought to downplay their frustrations with one another on migration and trade as they met for the near-annual North American Leaders Summit.
The leaders offered a unified front on Tuesday (10 January) despite tensions that have put a strain on their relationships even as Biden has made repairing alliances a cornerstone of his foreign policy agenda.
The tensions were front and center when Biden and López Obrador met on Monday (9 January) with the Mexican president complaining of "abandonment" and "disdain" for Latin America.
But as they closed Tuesday's summit in Mexico City with a joint news conference, the leaders offered an optimistic outlook.
"We're true partners the three of us," said Biden, adding that they had "genuine like" for one another. "We share a common vision for the future, grounded on common values."
López Obrador, for his part, thanked Biden for not building "even one meter of wall," a not so subtle dig at Biden's Republican predecessor, Donald Trump. The warmth during their joint press conference stood in stark contrast to the more brusque exchange a day earlier.
Still, López Obrador prodded Biden to "insist" Congress regularize undocumented Mexican migrants who work in industries where American employers are struggling mightily to find enough workers.
The three-way gathering is held most years, although there was a hiatus while Trump was president. It's often called the "three amigos summit," a reference to the deep diplomatic and economic ties among the countries.
However, the leaders have found themselves at odds, especially as they struggle to handle an influx of migrants and to crack down on smugglers who profit from persuading people to make the dangerous trip to the United States.
In addition, Canada and the U.S. accuse López Obrador of violating a free trade pact by favoring Mexico's state-owned utility over power plants built by foreign and private investors. Meanwhile, Trudeau and López Obrador are concerned about Biden's efforts to boost domestic manufacturing, creating concerns that U.S. neighbors could be left behind.
Trudeau emphasized in a one-on-one meeting with Biden the benefits of free trade and warned against Buy America policies that the U.S. administration has promoted, according to the prime minister's office. Nearly 80% of Canada's exports go to the U.S., so avoiding protectionism remains a priority for Canada.
The key takeaways from the summit revolve around better connections among the three nations and a shared goal of a stronger North America on energy and in particular semiconductors, climate and a pledge to cut methane emissions, an agreement to manage large waves of migrants coming to the region and a more cohesive regional strategy on dealing with future pandemic-related health threats.
In their talks on Monday, López Obrador challenged Biden to improve life across the region, telling him that "you hold the key in your hand."
"This is the moment for us to determine to do away with this abandonment, this disdain, and this forgetfulness for Latin America and the Caribbean," Lopez Obrador said.
Biden responded by pointing to the billions of dollars that the United States spends in foreign aid around the world.
Biden and Trudeau also discussed their countries' efforts to support Ukraine nearly 11 months after Russia's invasion. Canada announced Tuesday that it would buy an American-made National Advanced Surface to Air Missile System, or NASAMS, to be donated to Ukraine. The medium-range ground-based air defense system, which protects against drone, missile and aircraft attacks, costs about $406 million and brings Canada's contribution to Ukraine to more than $1 billion since the start of the war.
The White House said in a statement that the leaders also discussed "the generational opportunity to strengthen supply chains for critical minerals, electric vehicles, and semiconductors." The U.S. administration also announced that Biden will make his first visit to Canada as president in March.
"There's a lot of reasons to be optimistic, especially for those of us in our countries," Trudeau said. "But it's going to take a lot of work, something neither you or I or most our citizens have ever been afraid of."
Biden and López Obrador haven't been on particularly good terms for the past two years. The Mexican leader made no secret of his admiration for Trump, and last year he skipped a Los Angeles summit of the Americas because Biden didn't invite the authoritarian leaders of Cuba, Venezuela and Nicaragua.
But despite the tension, there's been cooperation. The U.S. and Mexico have also reached an agreement on a major shift in migration policy, which Biden announced last week.
Under the plan, the U.S. will send 30,000 migrants per month from Cuba, Nicaragua, Haiti and Venezuela back across the border from among those who entered the U.S. illegally. Migrants who arrive from those four countries are not easily returned to their home countries for a variety of reasons.
In addition, 30,000 people per month from those four nations who get sponsors, background checks and an airline flight to the U.S. will be able to work legally in the country for two years.
The number of migrants crossing the U.S.-Mexico border has risen dramatically during Biden's first two years in office. There were more than 2.38 million stops during the year that ended Sept. 30, the first time the number topped 2 million.
López Obrador spoke at length about Mexico's efforts to control the flow into the United States of fentanyl, the synthetic opioid that has become a scourge for many American communities. He noted that his government gave the military control of sea ports to help with the interdiction of precursor chemicals coming from Asia.
"We are battling fentanyl, these chemicals, and we are doing it because we care. No human is foreign to us," he said. "It really matters to us to be able to help with what is happening in the United States, the deaths from fentanyl. But also as we discussed today, it is not only an issue for the United States, because if we don't confront this problem, this scourge, we are going to suffer it, too. So we have to act in a coordinated way."
Canada is being nudged by the U.S. and other allies to lead an international mission to Haiti to help solve the ongoing humanitarian and security crisis.
Haitian Prime Minister Ariel Henry and the country's Council of Ministers sent an urgent appeal Oct. 7 calling for "the immediate deployment of a specialized armed force, in sufficient quantity" to stop the crisis caused partly by the "criminal actions of armed gangs." But more than three months later, no countries have stepped forward.
Trudeau on Tuesday called the situation "heartbreaking." Both he and Biden said they will work with the United Nations Security Council to assist the Caribbean nation but also expressed caution about direct intervention.
"We need to make sure that the solutions are driven by the people of Haiti themselves," Trudeau said.
PM Sheikh Hasina to partake World of Work Summit in Switzerland this June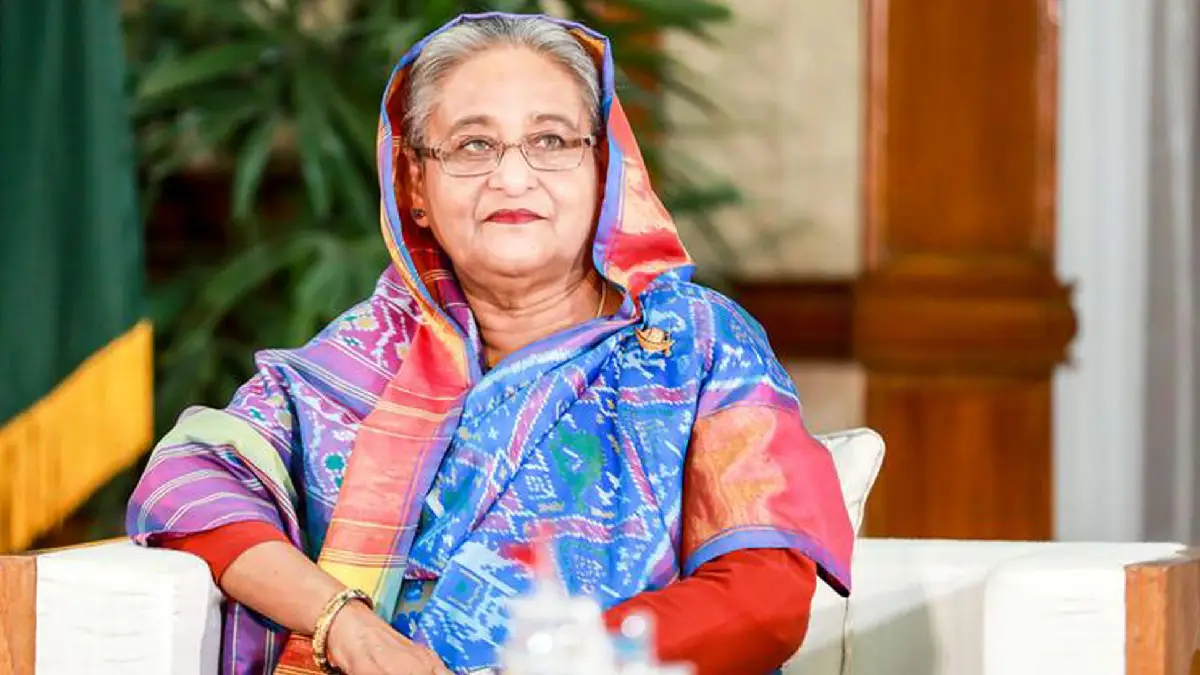 Bangladesh Prime Minister Sheikh Hasina is expected to embark on a visit to Switzerland in June to attend the "World of Work Summit: Social Justice for All" in Geneva on June 14-15. The summit serves as a significant platform for global leaders to address the pressing need for enhanced, coordinated, and coherent efforts in promoting social justice.
During the summit, discussions will revolve around the proposal to establish a Global Coalition for Social Justice, which received a positive response from the International Labour Office's Governing Body at its 347th Session. Should the plans be finalized, Prime Minister Sheikh Hasina will undertake her visit to Geneva from June 13 to 16, as confirmed by a diplomatic source.
A distinguished lineup of attendees, including French President François Hollande, Panamanian President Juan Carlos Varela, Nobel Peace Prize laureate Kailash Satyarthi, and representatives from employers' and workers' organizations, will address the conference. Over the course of two days, the summit aims to emphasize the crucial role of social justice in fostering a more sustainable and equitable world. Additionally, strategies for enhanced collaboration and cohesive action to advance social justice and ensure policy coherence will be explored.
The summit will provide participants with a platform to share their vision and priorities concerning social justice, as well as showcase the actions they have taken and commit to taking to promote social justice. Furthermore, the outcomes of the summit are expected to inform discussions in other multilateral forums regarding the significance and strategies for achieving greater social justice. These forums include the Sustainable Development Goals Summit, the G20 Summit, and the summits of the BRICS countries, all scheduled to take place in 2023.
Prominent figures such as heads of state and government, the United Nations Secretary-General, the Director-General of the International Labour Organization (ILO), and high-level representatives from employers' and workers' organizations will deliver addresses during the summit. Additionally, four panel discussions will bring together governmental representatives, employers' and workers' organizations, UN entities, and other international organizations to identify and amplify actions aimed at promoting social justice across the multilateral system. The objective is to commit to a joint, coherent, and coordinated engagement on this crucial issue.
Erdoğan Emerges Victorious in Turkish Presidential Election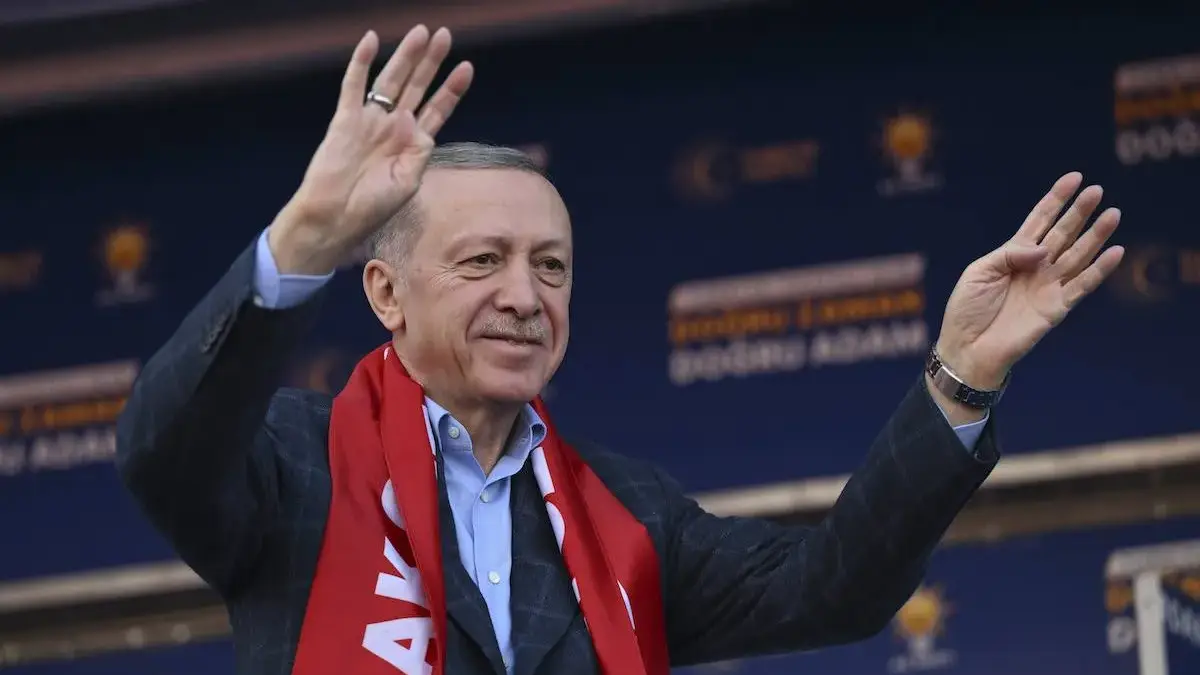 Recep Tayyip Erdoğan has extended his two-decade-long grip on power in Turkey, securing victory over his rival Kemal Kilicdaroglu in a closely contested presidential runoff election.
With 99.43% of the votes counted, Turkey's supreme election authority announced Erdoğan's win with 52.14% of the votes, while Kilicdaroglu received 47.86%. The gap of over 2 million votes between the candidates was insurmountable, ensuring Erdogan's victory. Even before the official result was announced, Erdoğan celebrated atop a bus in Istanbul, singing a campaign song and declaring his triumph.
Erdoğan hailed the election as a win for Turkey and its democracy, emphasizing the importance of the country remaining united and focused on its goals. The incumbent president has been a dominant figure in Turkish politics, centralizing power, suppressing opposition, and implementing unconventional economic policies. Surprisingly, he garnered support in areas severely affected by financial crises and devastating earthquakes. Erdogan's victory affirms his populist style of politics and grants him another term as president.
In the aftermath of his win, Erdoğan addressed his supporters from the balcony of the presidential palace, boasting of Turkey's economic independence despite ongoing financial challenges. Congratulations poured in from various world leaders, including President Joe Biden, President Vladimir Putin, Prime Minister Rishi Sunak, President Emmanuel Macron, President Luiz Inacio Lula da Silva, and even Erdogan's former rival, President Abdel Fatah al-Sisi of Egypt.
Kilicdaroglu, leader of the Republican People's Party (CHP), consoled his supporters at the party's headquarters in Ankara, acknowledging the people's desire for change despite what he deemed an unfair election process. He expressed his commitment to continuing the struggle for real democracy in the country.
The opposition had managed to push Erdoğan into a runoff election, an unprecedented occurrence in the presidential system introduced by Erdoğan himself. However, they fell short of securing the majority needed for victory. Kilicdaroglu and his coalition campaigned on returning Turkey to parliamentary democracy, pledging to reverse the changes implemented by Erdoğan during his two decades in power.
Erdoğan dismissed claims of increasing authoritarian control, highlighting that a candidate entering a runoff election cannot be considered a dictator. His campaign focused on his ability to solve the country's problems, particularly the worsening economic crisis. Despite holding mayorships in major cities, the opposition struggled to gain traction outside their traditional strongholds, while Erdoğan's support remained strong in provinces that had experienced significant socioeconomic growth under his leadership.
In summary, Erdoğan's victory in the presidential runoff election solidifies his hold on power in Turkey, offering him another term as president and reaffirming his populist political approach. The country remains deeply polarized, with the opposition vowing to continue the struggle for a more democratic system.
Indonesia seeks $700 Million for 200 MW Solar Power Installation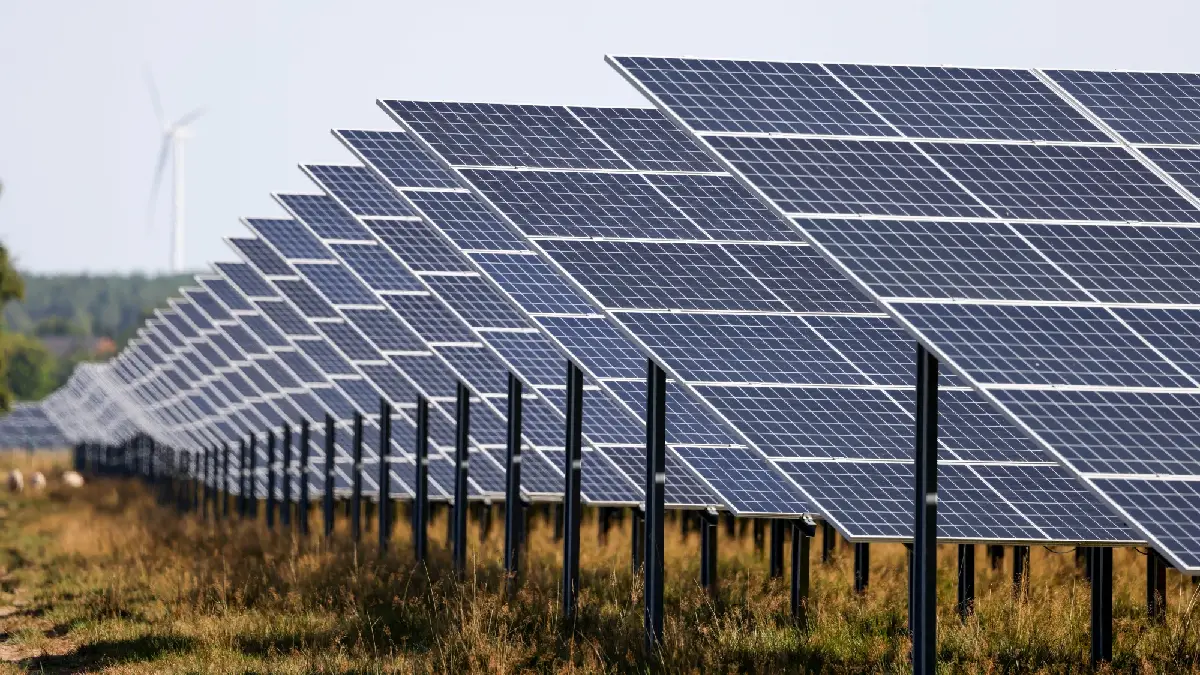 Indonesia's State Utility, Perusahaan Listrik Negara, Seeks $700 Million Investment for 200 MW Solar Panel Installation
Perusahaan Listrik Negara (PLN), the state utility of Indonesia, has announced its intention to secure a $700 million investment to deploy a 200-megawatt (MW) solar panel system. This ambitious initiative aims to replace diesel power generators and reduce carbon emissions, aligning with Indonesia's goal of achieving net zero carbon emissions by 2060. As part of its broader plan, PLN has set a target to install 4.68 gigawatts (GW) of solar panels between 2021 and 2030.
According to PLN's director, Evy Haryadi, the initial 200 MW solar panel installation represents the first phase of a comprehensive strategy to replace 1 GW of diesel power plants with solar energy. However, specific details regarding the timeline for this initial phase have not been disclosed.
Indonesia has received substantial support from a coalition of countries through the Just Energy Transition Partnership (JETP), which has pledged $20 billion in both public and private financing to assist the country in transitioning to cleaner energy sources. In line with this commitment, Indonesia aims to finalize a comprehensive plan for the allocation of JETP funds by August. It is worth noting that PLN's transition from diesel power to renewable energy will serve as a pilot program within the JETP initiative.
This progressive move towards renewable energy showcases Indonesia's dedication to combatting climate change and marks a significant step in the country's sustainable energy transition. With the implementation of the solar panel project, Indonesia strives to pave the way for a greener and more environmentally friendly future.