English cricket bid farewell to Queen Elizabeth II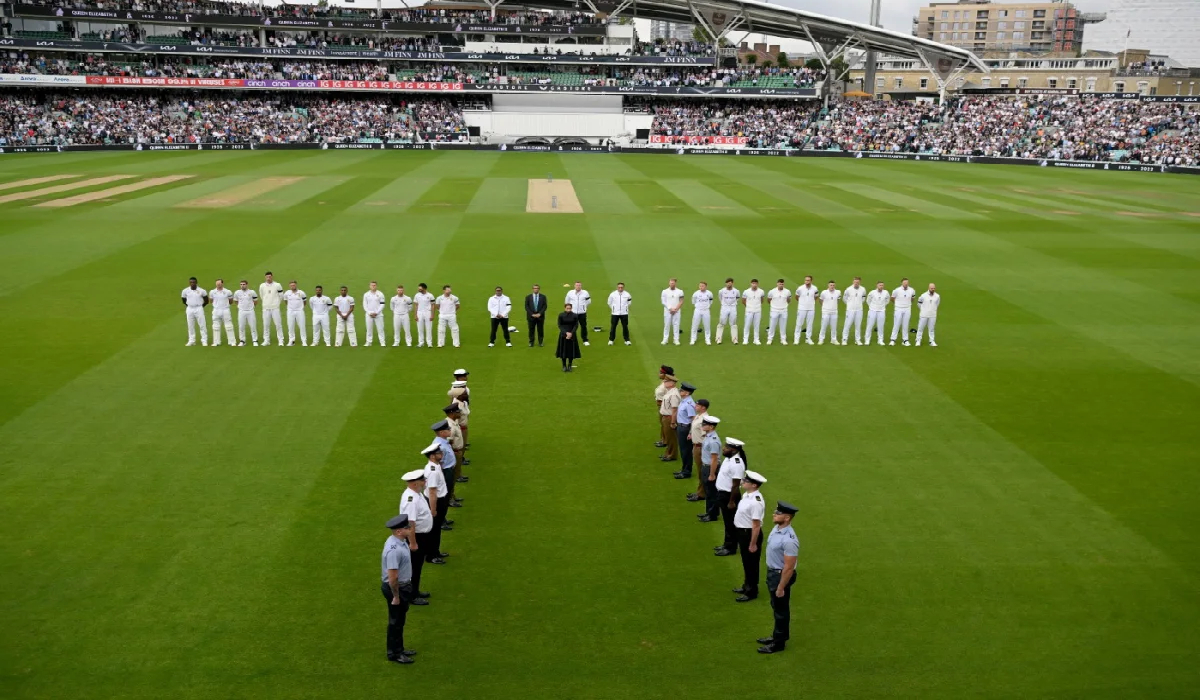 The Oval has known many 'departures' given it often stages the last Test of an English cricket season, with Australia great Don Bradman and former England captain Alastair Cook taking their leave of the international stage at the ground.
But the south London venue fell silent on Saturday before the start of the third day's play in the third Test between England and South Africa for a farewell of a very different sort as the ground paid tribute to Queen Elizabeth II.
The death of Britain's longest-serving monarch at the age of 96 on Thursday had led the England and Wales Cricket Board (ECB) to abandon Friday's play.
And with Thursday's opening day washed out, it meant what should have been a five-day match had now been reduced to a three-day game.
Unlike their counterparts at English football's Premier League, who have suspended their fixtures this weekend, the ECB decided to resume play Saturday.
"It's been very sad news for not only the nation but the world with the Queen's passing," England captain Ben Stokes told before play resumed.
"She was someone who dedicated her life to the nation, someone that we take incredible inspiration from and we are honoured to be able to walk out on the field in memory of the Queen."
The all-rounder added: "We know how much the Queen loved this sport, and the show must go on. I'm sure she'll be looking down on all the sport that's still going ahead over this weekend and that we're going out there in her honour. I'm very pleased and proud we can do that."
As spectators took their seats at the Oval, they would have noticed a few changes, with the usual advertising signs on the perimeter hoardings replaced by black and white messages marking the death of the Queen.
Then, ten minutes before the scheduled start of play at 11:00 am (10:00 GMT), the players and match officials all wearing black armbands as a sign of respect walked onto the outfield through a military guard of honour.
Under grey skies, and with the Union flag flying alone above the pavilion where the England and South Africa flags would usually have been on display as well a near-capacity crowd of 27,500 then observed a minute's silence.
With the teams and officials still lined up in front of the pavilion, professional singer Laura Wright well known for her performances at sporting events sung the South African national anthem unaccompanied as the crowd listened in silence before politely applauding.
Wright then delivered the first performance of 'God Save the King', Britain's now slightly but significantly altered national anthem, at a major sporting event since the Queen's death, with the crowd most of whom had never known about anything but 'God Save the Queen joining in before a ripple of applause went round England's oldest Test match ground.

Shakib scores 7000 ODI runs as top 2nd Bangladeshi Cricketer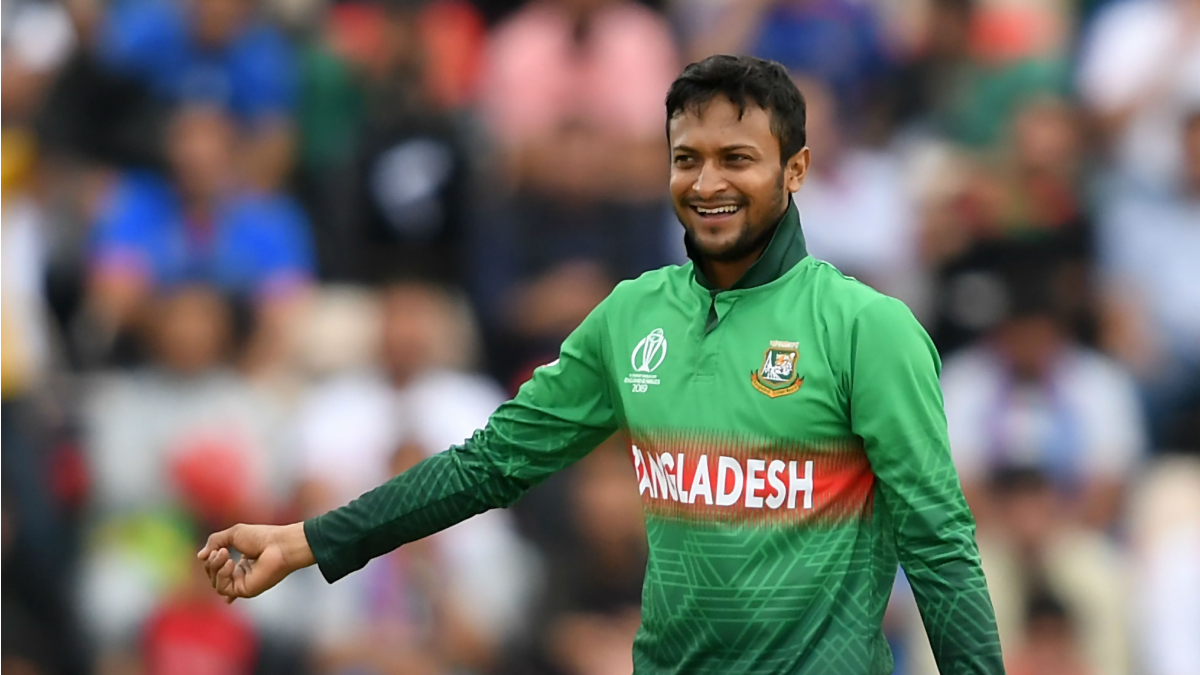 Bangladeshi Cricketer and star all-rounder Shakib Al Hasan have scored 7000 runs in ODIs.
He scored the milestone during the first ODI of the 3-match series against Ireland in Sylhet today, when he scored 24 runs.
Shakib took 228 matches and 216 innings to score 7000 runs in ODIs, happening to be the second Bangladeshi batsman after Tamim Iqbal to reach this feat.
During his ODI career, Shakib has scored 9 centuries and 52 half-centuries and has also taken 300 wickets in the same format.
Additionally, Shakib is the 3rd player to score over 7000 runs and take 300 or more wickets in ODIs, after Sanath Jayasuriya of Sri Lanka and Shahid Afridi of Pakistan.
Guinness WR achieved by Md Sameen Rahman in a 'Fastest Time To Tie A Windsor Knot'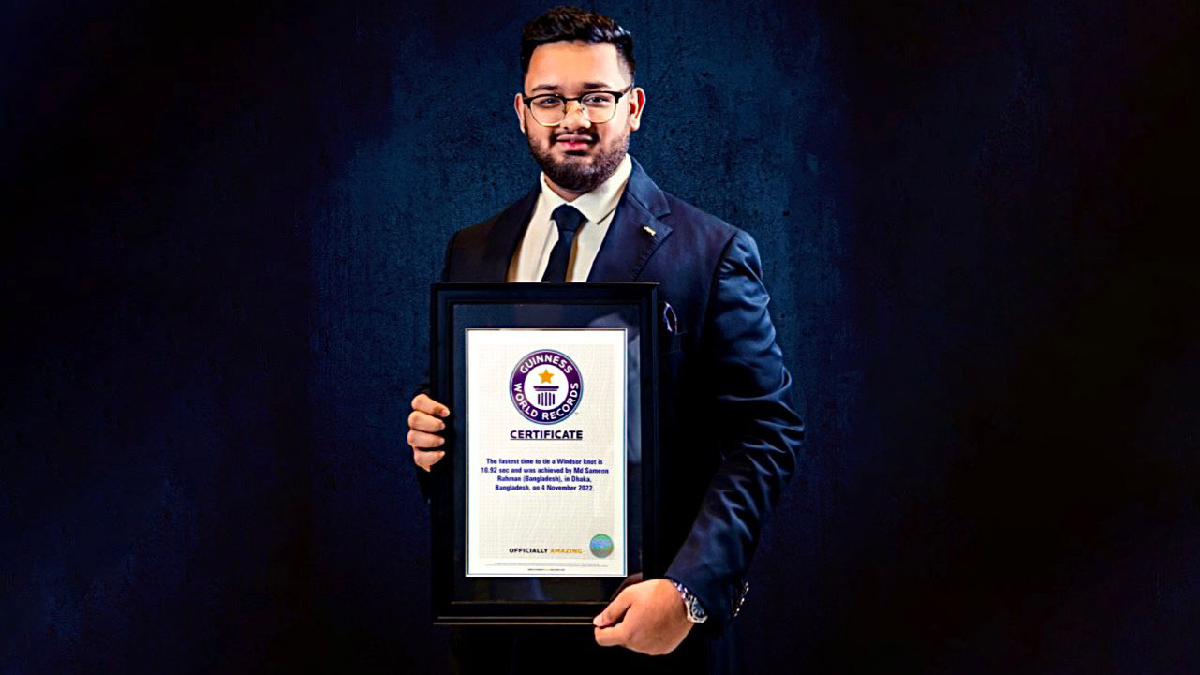 Guinness World Record holder Md Sameen Rahman from Bangladesh holds the title for the "Fastest Time To Tie A Windsor Knot." He pinned the record on 4th November 2022 from Dhaka, Bangladesh.
Presently, he is an undergraduate student at Independent University, Bangladesh aside he is also an entrepreneur and musician.
Md Sameen Rahman briefs, "Wearing a tie was always a habit since childhood, as it was a part of school uniform. As I have gained so much experience since childhood by wearing a tie, I imagined of challenging myself to break the Guinness World Record for the "Fastest Time To Tie A Windsor Knot."
Hence, I will try to break many more records by developing the skills I have gained so far. I have always kept myself motivated and inspired to carry out and search for new things with a dream of showcasing my nation Bangladesh. "
"With such solid beliefs and pure intentions accomplishing a Guinness World Record for my country is a fascinating experience. I urge to inspire this new generation to believe that the future is in the palm of our hands and that our potential is infinite," he concludes.
The drive of ambition can take you to great heights, and Md Sameen Rahman's dedication is the massive example for this generation.
Argentine FM arrives in Dhaka to reopen embassay & deepen ties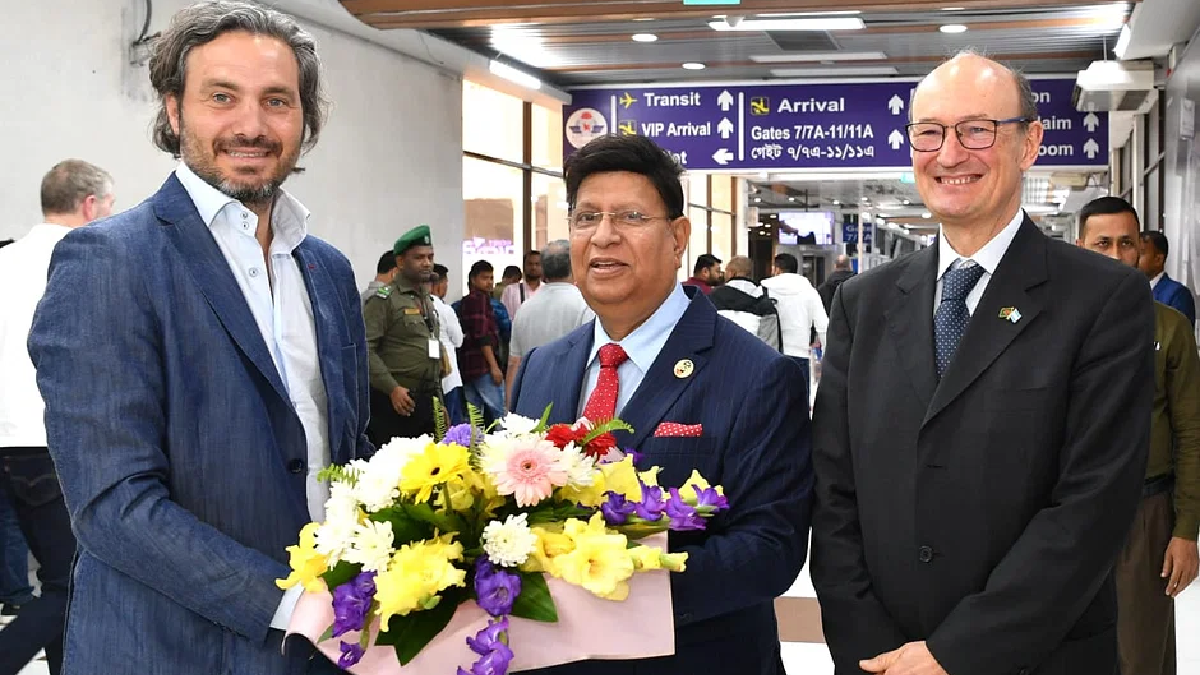 Argentina's Minister of Foreign Affairs, International Trade and Worship Santiago Andrés Cafiero arrived in Dhaka at the morning (27 February) to inaugurate the South American country's new embassy here and deepen trade and cultural relations.
Foreign Minister Dr. AK Abdul Momen received him at the VIP Lounge of Hazrat Shahjalal International Airport upon his arrival in Dhaka.
Argentina is reopening its embassy here after 45 years. State Minister for Foreign Affairs Md Shahriar Alam will join the Argentine foreign minister to inaugurate the Embassy of the Argentine Republic in Banani this afternoon.
The Argentine embassy in Dhaka was closed in 1978 by the military junta that ruled the country at the time. Diplomatic operations, such as visas in order to travel, have since been handled by the Argentine embassy in India.
Argentina says it is convenient to reopen the embassy in accordance with foreign policy guidelines based on "political, strategic and commercial" reasons. Apart from reopening the Argentine embassy in Dhaka, Cafiero is likely to meet Prime Minister Sheikh Hasina, and Commerce Minister Tipu Munshi.
"There is also the possibility of signing visa exemption agreements on diplomatic and official passports, MoUs on cooperation in agriculture and diplomatic training academies of the two countries," Ministry of Foreign Affairs Spokesperson Seheli Sabrin told reporters. The two countries are working on a memorandum of understanding on football related matters as well, she said.
Apart from the import of soybean oil and wheat from Argentina, the two sides are likely to discuss Bangladesh's inclusion in South America's powerful economic alliance Mercosur. Mercosur, or the Southern Common Market, is an economic and political bloc originally comprising Argentina, Brazil, Paraguay, and Uruguay.
The Argentine visiting team is likely to enjoy a friendly match between two teams comprising Bangladesh's junior footballers as well as meeting with football officials.