Bangladesh Celebrates Prime Minister Sheikh Hasina's 77th Birthday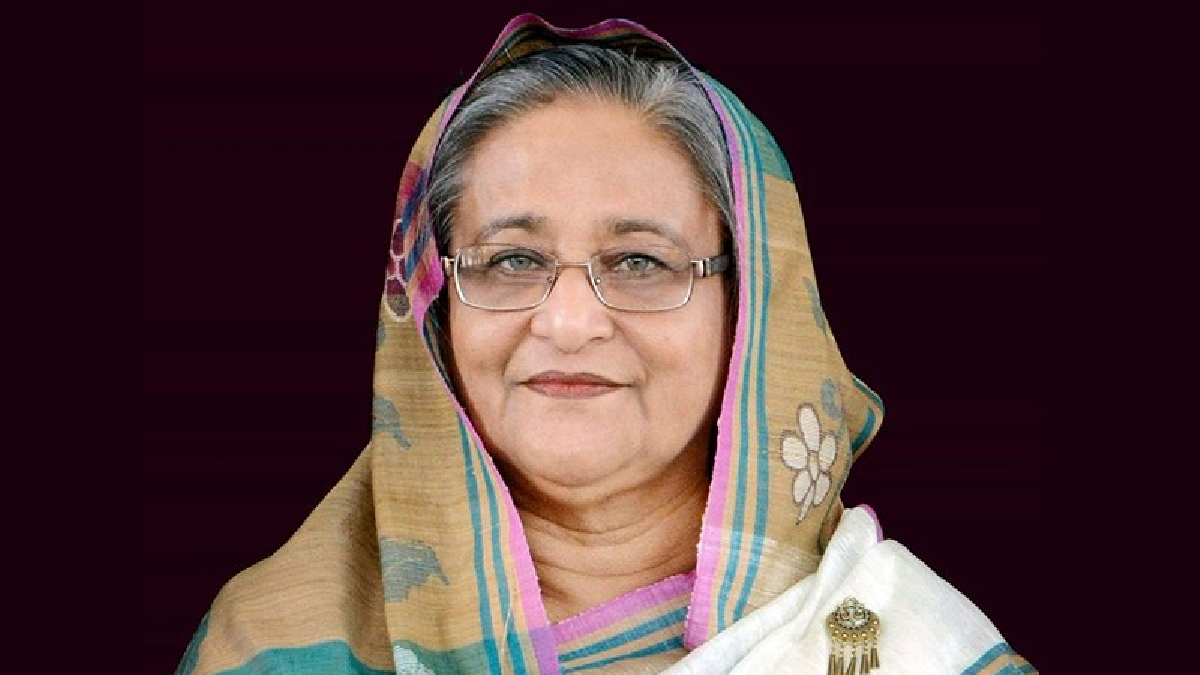 The nation will celebrate the 77th birthday of Prime Minister and Awami League (AL) President Sheikh Hasina today.
Born on September 28, 1947, in Tungipara, Gopalganj, Sheikh Hasina is the eldest of the five children of the Father of the Nation, Bangabandhu Sheikh Mujibur Rahman, and Bangamata Sheikh Fazilatun Nesa Mujib.
Currently, Prime Minister Sheikh Hasina is abroad attending the 78th United Nations General Assembly (UNGA) session. Following in the footsteps of Bangabandhu, she addressed the UNGA in Bengali, as she has done in previous years.
Awami League (AL), its affiliated organizations, and socio-cultural groups will commemorate the day with various events highlighting Sheikh Hasina's life and accomplishments. These activities will include discussions, milad (prayer gatherings), and special prayers held both in the capital and nationwide.
Sheikh Hasina spent a significant part of her early life in her birthplace, where she received her early education. Her family moved to Dhaka in 1954 when Bangabandhu was elected as a legislator.
She pursued her education at institutions such as Sher-e-Bangla Girls' School and College and Azimpur Girls' High School, where she completed her secondary education in 1965. She then enrolled at Badrunnessa Government Girls' College.
During her university days, she served as the vice-president of the students' union at Eden Girls' College (which included Badrunnessa and Eden Girls' College at the time). Subsequently, she pursued her master's degree in Bangla at Dhaka University.
As a student leader, Sheikh Hasina actively participated in the historic six-point movement in 1966 and the student movement of 1969, which led to the abdication of General Ayub Khan.
In 1968, she married nuclear scientist Dr. MA Wazed Miah with the blessing of her incarcerated father, Bangabandhu. During the Liberation War, she and her family were confined to a house in Dhaka. On July 27, 1971, she gave birth to her first child, Sajeeb Wazed Joy. Her second child, Saima Wazed, was born on December 9, 1972.
Following the assassination of her parents in 1975, Sheikh Hasina and her family sought political asylum in India, where she resided until 1981, when she was elected as the president of the Awami League in her absence. She returned to Bangladesh on May 17, 1981, to a grand reception.
In the 1986 parliamentary election, Sheikh Hasina was elected as a Member of Parliament from three different constituencies. After the fall of autocracy in 1990, she was chosen as the Leader of the Opposition through the general elections of 1991.
In the 1996 general elections, 21 years after her father's assassination, she led the Awami League to victory, assuming power as Prime Minister for the first time.
On August 21, 2004, Sheikh Hasina narrowly escaped an assassination attempt as grenades were hurled at an AL rally on Bangabandhu Avenue in the capital. Although she survived, the attack resulted in the loss of at least 24 lives and injured over 500 others, most of whom were Awami League leaders and supporters.
In 2008, she led the Grand Alliance to a resounding victory, securing 90 percent of parliamentary seats in the general elections and becoming Prime Minister for the second consecutive term. On January 5, 2014, she was reelected as Prime Minister.
Under her leadership, Bangladesh has achieved remarkable progress in various fields, including economic growth, self-sufficiency in food production, and advancements in women's empowerment, agriculture, education, healthcare, infrastructure, communication, energy, trade, ICT, and SME sectors.
Her humanitarian efforts, particularly in providing support to over 1.1 million Rohingya refugees from Myanmar, have garnered international acclaim. In 2017, the UK-based 'Channel 4' referred to Prime Minister Sheikh Hasina as the 'Mother of Humanity' for her role in sheltering Rohingyas fleeing persecution.
Sheikh Hasina has received numerous awards and honors, including the Tagore Peace Award-2018, the Vaccine Hero award, and the Champion of Skill Development for Youth award. She has also been recognized with honorary degrees and accolades for her leadership and intellectual contributions.
Sheikh Hasina has authored more than 25 books, including 'Mujib Amar Pita,' 'Living in Tears,' 'Sada Kalo,' and 'Amara Janaganer Kotha Bolte Esechhi.'

PM Sheikh Hasina Advocates River Conservation in Development Plans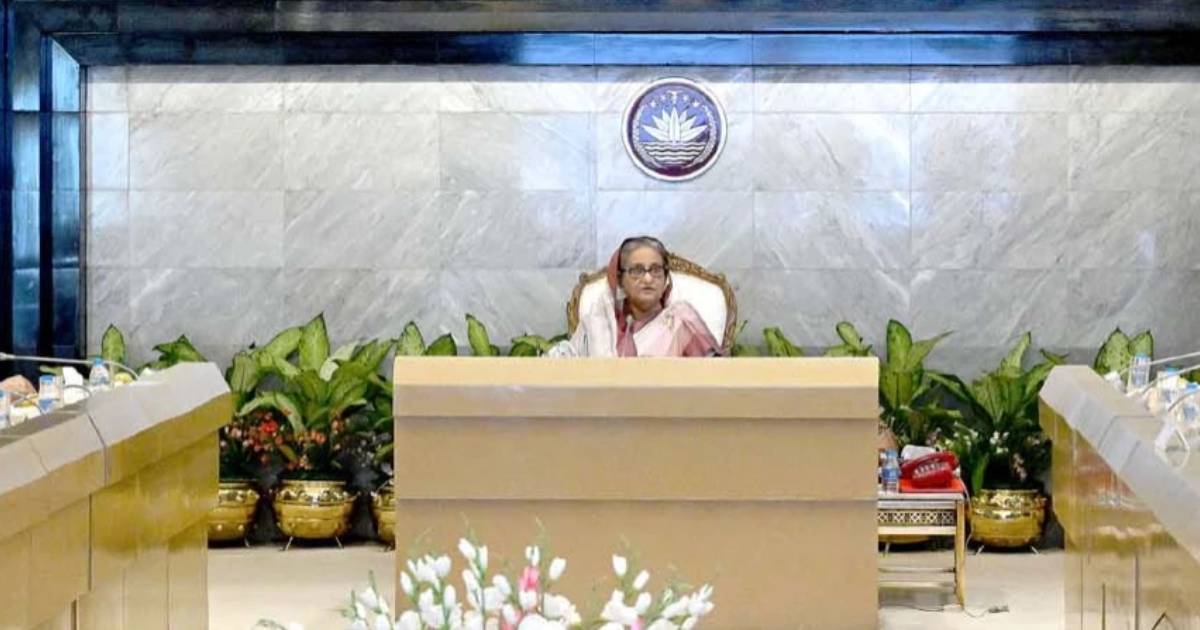 On Monday (December 04), Prime Minister Sheikh Hasina emphasized the importance of environmental preservation in all development plans. During a meeting at the Prime Minister's Office, she urged authorities to prioritize waste management and water flow maintenance in city planning.
PM expressed regret over past unplanned development, particularly during the illegal assumption of power in 1975, which neglected environmental concerns and led to river encroachments.
She highlighted her government's commitment to protecting rivers, restoring navigability, and preventing pollution. Hasina recalled initiating river dredging during her first term and stressed the need for ongoing efforts to combat river erosion. The Prime Minister addressed the issue of industries and sewage lines dumping waste into rivers, causing increased pollution, citing the unpleasant state of the Buriganga River.
Emphasizing waste management as a top priority, Hasina suggested establishing small treatment plants across Dhaka to safeguard the capital's rivers. She underscored the necessity of preserving Bangladesh's rivers despite the inevitability of floods and emphasized creating buffer zones along rivers for water preservation during the rainy season.
UN Honors PM Sheikh Hasina for Climate Advocacy & Leadership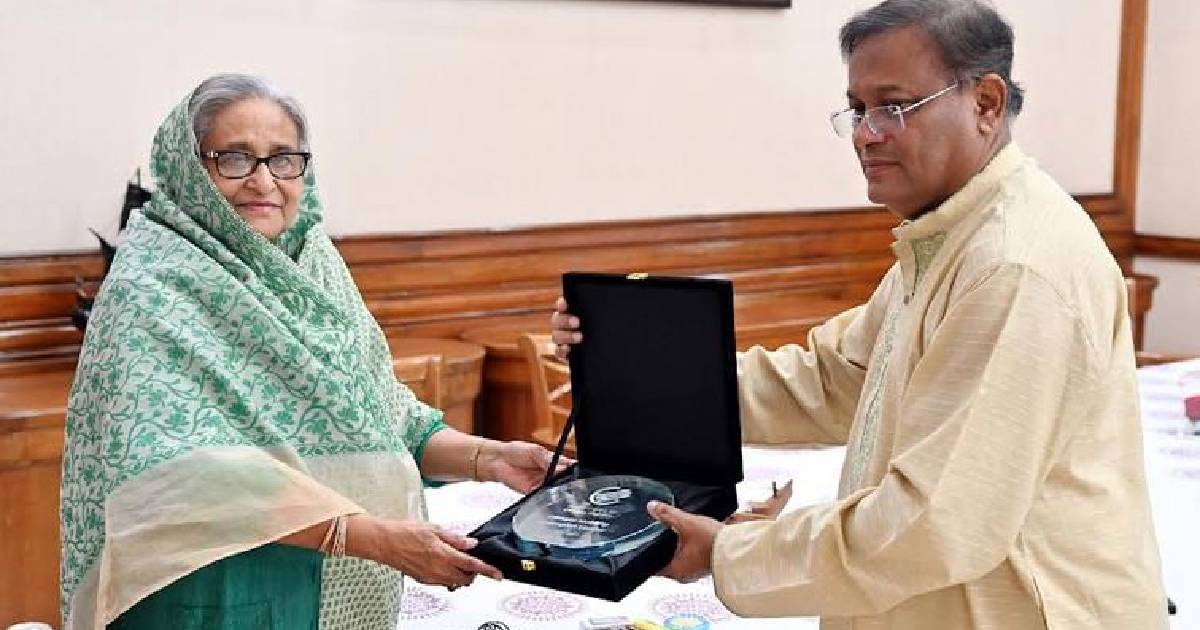 Information and Broadcasting Minister Dr. Hasan Mahmud presented the prestigious 'Asia Climate Mobility Champion Leader Award' to Prime Minister Sheikh Hasina at her official residence, Ganabhaban, in the morning. The award was initially received on behalf of the Prime Minister by Dr. Hasan Mahmud and the Head of the Bangladesh delegation during the high-level segment of COP28.
Acknowledging Prime Minister Hasina's exemplary leadership in championing climate actions and advocating for vulnerable communities globally, the Global Centre for Climate Mobility, supported by IOM and the UN system, conferred the award during a significant high-level panel on the sidelines of COP28 in Dubai on December 1. The event, co-hosted by the President of the UN General Assembly, Ambassador Dennis Francis, and the Director General of IOM, Amy Pope, highlighted the urgency of climate-forced migration and displacement.
During the UNGA78 Climate Mobility Summit, Prime Minister Hasina emphasized the critical issue of climate-induced migration. The recognition through this award is a testament to her continuous efforts and Bangladesh's advocacy in addressing climate mobility challenges.
In addition to Prime Minister Hasina, other countries such as Botswana, Suriname, and Palau were also honored, representing Africa and the Pacific. The Global Centre for Climate Mobility actively collaborates with the United Nations system, regional intergovernmental organizations, and development finance institutions to find cooperative and comprehensive solutions for climate mobility.
The award ceremony is part of a series initiated during COP27, where five African Heads of State and Government were honored as Climate Mobility Champion Leaders.
Bangladesh Triumphs in IMO Council Election-2023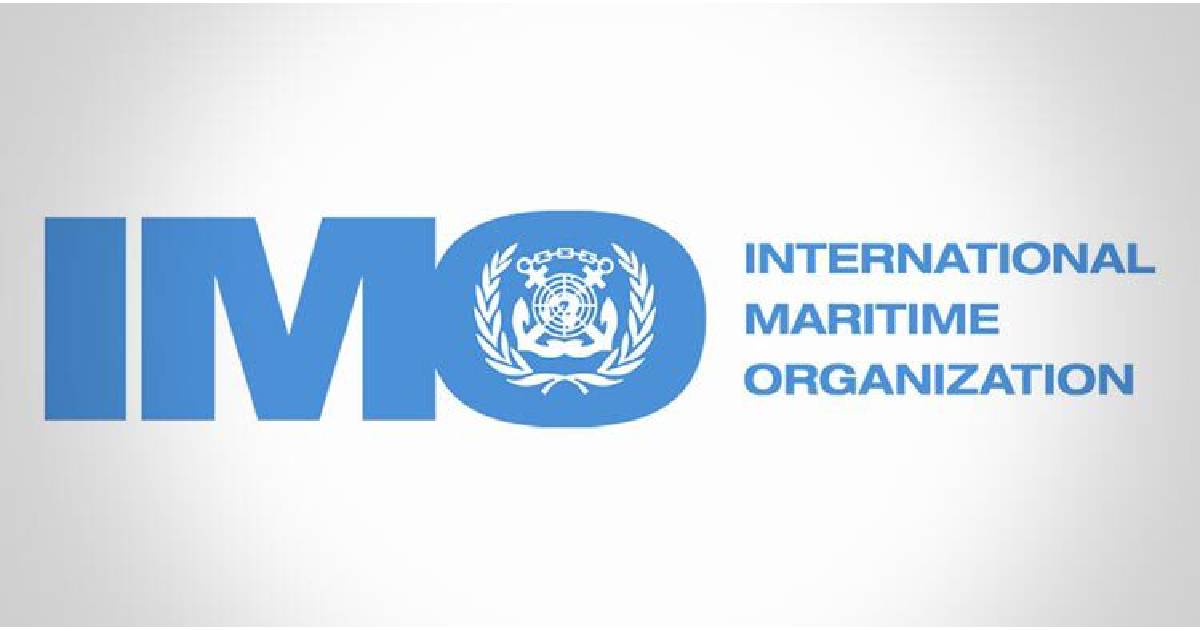 Bangladesh has emerged victorious in the International Maritime Organization (IMO) council election 2023 in category C, securing 128 votes out of the 175-member council. This marks the first time Bangladesh has won in the highly competitive category C of the IMO, as reported by the Bangladesh mission in London.
Following the election results, Bangladesh High Commissioner to the UK and Permanent Representative to the IMO, Saida Muna Tasneem, expressed gratitude to IMO members for electing Bangladesh as a Council member. She reiterated Bangladesh's commitment to the IMO's charter of actions for dealing with maritime affairs. Tasneem extended thanks to the Ministry of Foreign Affairs and the Ministry of Shipping in Bangladesh, specifically acknowledging Prime Minister Sheikh Hasina for her decision to participate in the IMO council election in 2023.
"Bangladesh's election to the International Maritime Organisation's elite 40-member council is a testimony of the confidence and trust that the IMO member states and the International Maritime Community place in Bangladesh's leadership as a maritime nation, led by the prudent leadership of our Prime Minister Sheikh Hasina," stated the Bangladesh envoy.
Previously, Tasneem was elected by consensus as the Vice President of the 33rd assembly of the IMO during which the election took place.
The IMO, as the only UN specialized body, regulates global shipping standards that impact ship-operating flag states, seafarers, and maritime safety, security, and marine pollution.
Bangladesh, heavily reliant on international trade, with 90 percent conducted via the sea, aims to address key issues such as the transition of maritime ports into green and digitalized entities and compliance with the Hong Kong convention on ship recycling and the use of greener fuels. These matters will be on Dhaka's negotiation agenda at the IMO council during the term 2024-25.